LBC Studios cultivates the freshest interactive experiences in the mobile world. From concept to publishing, their free-to-play games are 100% home-grown, an expression of their passion, commitment to quality and driven by purpose that will be remembered forever.

LBC Studios is an independent mobile gaming studio and publisher based in Vancouver, BC. It's home to the world's highest-rated cannabis-themed game. Their flagship title, Hempire, has been downloaded over 14 million times since launch in April of 2017 and installed by 1 in 74 Canadians, and 1 in 55 Americans. Hempire is one of the top 100 grossing apps in 63 countries, generating over 30M in revenue to date. Building off this success, LBC continues to be the category leader for cannabis-themed games as they launch their second title, Tasty Buds, worldwide this summer.
Growing from a small all-star crew to a 35+ strong person studio today, LBC Studios is also branching into celebrity licensed IP games and looks forward to launching in late 2021. Driven by core values of accountability, growth, honesty, and passion, LBC continues to innovate what it means to be a thriving indie gaming studio in both Vancouver and on the world stage.

LBC's story is one of timing, vision, opportunity, and thinking big. CEO Solon Bucholtz recognized, "the free-to-play mobile game market was growing in dollar volume and while there were a few cannabis games on the market in 2015, there was a clear appetite for more high quality content. When I cofounded LBC Studios with my partner Dennis, we set out to be the first mobile game studio to approach legal cannabis-themed content in a high quality, authentic and meaningful way. We challenged ourselves to do this in a way that promoted the culture and community while creating a game that was fun and profitable, so we could also support the professional and personal growth of our team members.
We couldn't think of anywhere else this could be achieved but Vancouver, as both a tech hub and ground zero for much of the Canadian cannabis legalization movement" What makes LBC's success story unique among Vancouver startups is that neither co-founder had prior experience in game development. While both were successful entrepreneurs the duo relied on their talent for asking the right questions to the right people, to secure support from investors, leading mentors and experts, to grow their napkin-idea into a multi-million dollar studio. But grit isn't enough to succeed in one of the most financially competitive industries.
LBC also faced a huge hurdle unique to their games—getting published on the major platforms amongst harsh stigma against cannabis. They had to innovate with marketing, from keywords to creative ads that saw them break barriers as the first cannabis-themed app to be featured in a number of advertising spaces. Their work paid off, with Bucholtz revealing, "Hempire's more than just a game. It's a community that's known as a safe place to form life-long friendships and learn more about cannabis, especially for players who live in countries where it's still socially unacceptable or illegal.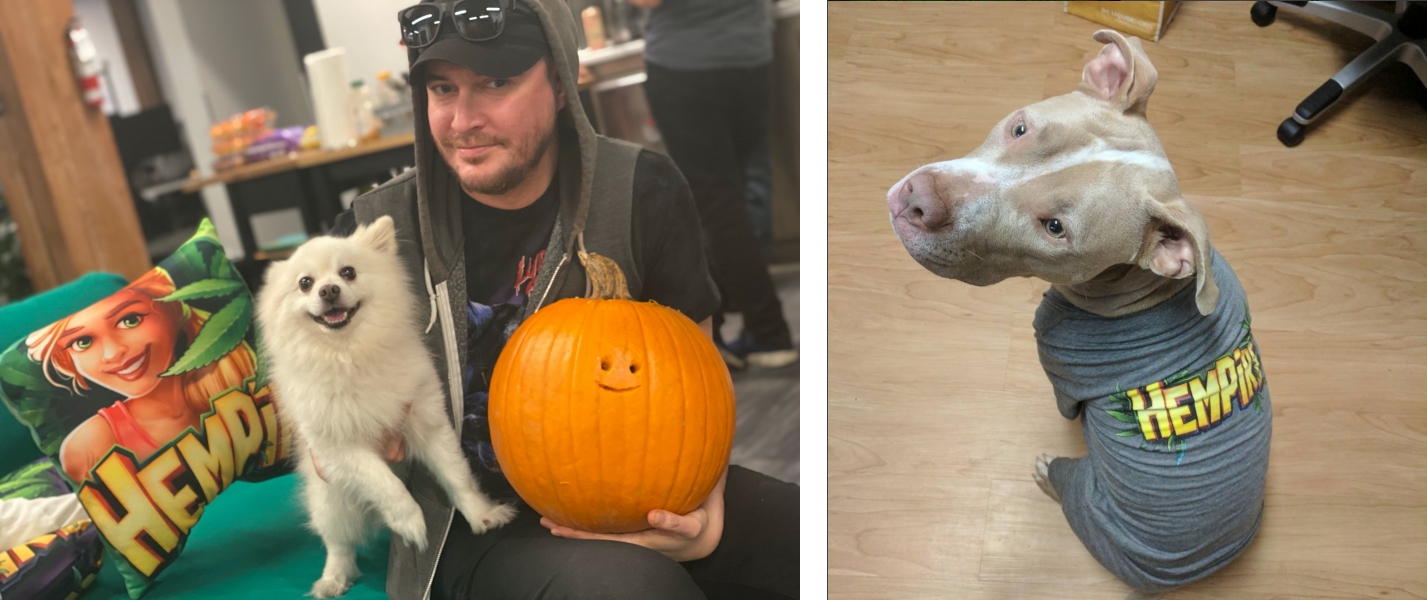 On top of that – we achieved our goal of becoming the highest rated simulation game, and building a reputation as a game for the people. This is particularly remarkable because we are the only successful cannabis-game competing without an established IP, which speaks to our ability to identify stories, characters and mechanics that appeal to our target audience." Their efforts culminated in LBC Studios placing 3rd in the 2019 Startup 50 ranking of Canada's Top New Growth Companies, with two-year revenue growth of over 5200%. However Bucholtz is proudest of LBC's culture. "We're grateful for the opportunity to define a company culture that values work/life balance, and fosters integrity and accountability while having fun. Our team embodies these values daily and I couldn't be more proud of the journey we share as we continue to grow together."