INTERFLEXION WAS FOUNDED TO IMPROVE WORKPLACE COMMUNICATIONS.
Interflexion's co-founders, successful fintech entrepreneur John Muldoon & tech innovator John Hack, had worked together during the dotcom era and bonded over their interest in emerging technologies and organizational performance.
In 2019, we were returning from a meeting with a VR expert when we got stuck in New York City traffic and struck up a conversation about the proliferation of user-computer interface technologies. It then changed to the changing needs of the workplace. Technical skills were being automated. Remote working was on the rise, requiring more deliberate efforts to collaborate and communicate effectively. Conversational skills were becoming critical to both professional development and organizational growth.
Yet, aside from scarce mentors, there were few options for developing these skills. Videos and multiple-choice tests didn't seem to be working. Human coaching was expensive, even via teleconference. VR was intriguing, but infrastructure-heavy, and it still needed people to handle the interactions.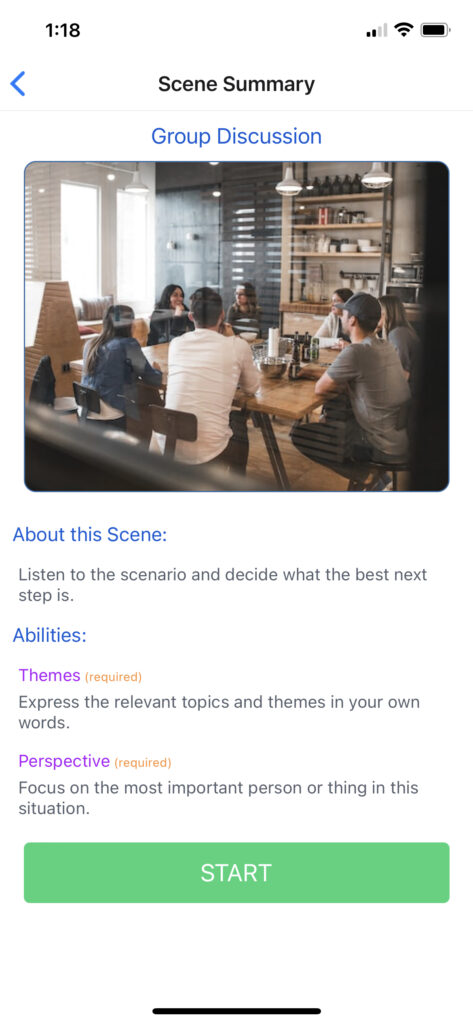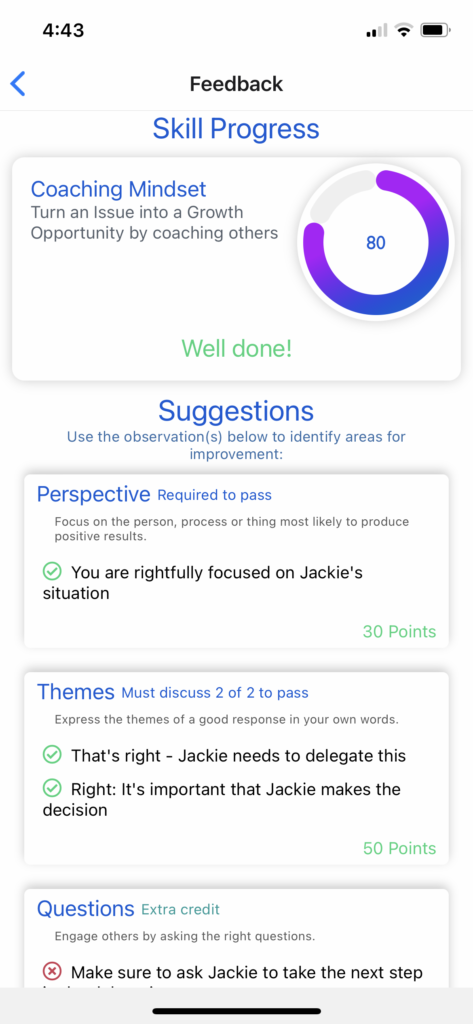 While traffic crawled, we brainstormed what would have to be true at a company where all their people were having productive conversations. What kind of training would accomplish that?
As the bumper to bumper traffic continued, we brainstormed answers to these questions: At a company where all of their people were having productive conversations, what would that look like? What kind of training would accomplish that?
Effective training at scale would require conversational AI. The timing was right. Conversational AI was approaching an inflection point, where it could help people have effective workplace conversations and would scale at low cost.
We just needed to build a solution. We brainstormed how an AI coach could work. Rather than having a chatbot in conversation with the learner, we imagined it as an observer of real workplace conversations. It could analyze conversations, provide personalized feedback, and let the person practice to achieve mastery.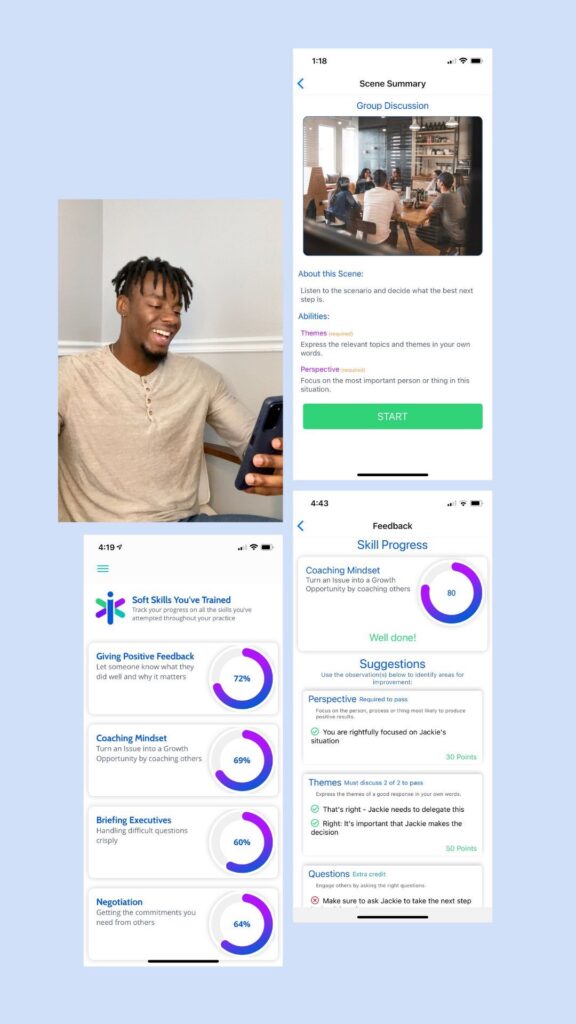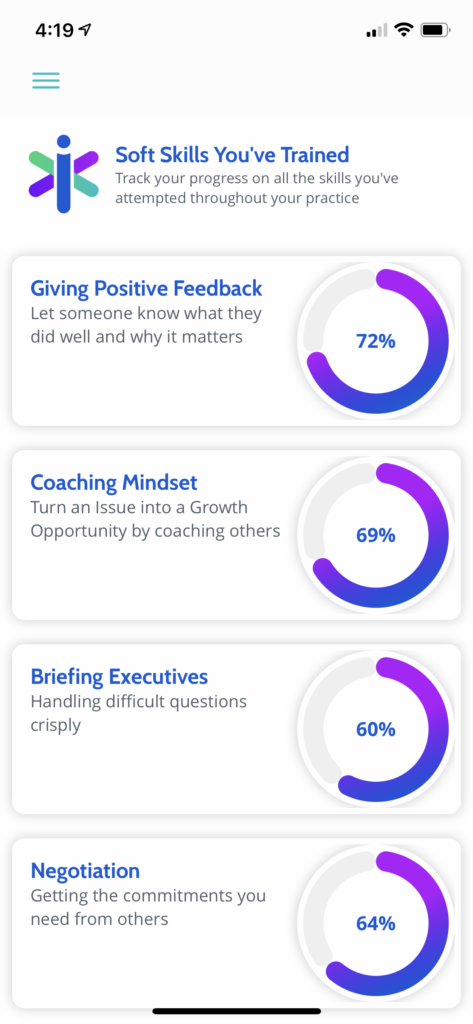 It would need to be engaging and allow people to speak in their natural voice. The technology would need to analyze the content and meaning of the conversation. The feedback would need to be immediate and actionable. The learner would have to feel safe to make mistakes. And it would be a workplace simulation game, where success brings you deeper into the story as you navigate life at work.
By the time we were back in New Jersey, the traffic was flowing smoothly, and we had our vision: AI-powered role-play to help aspiring professionals develop their interpersonal skills through guided practice and personalized feedback.
Building atop existing natural language models and adding proprietary language analytics, we developed a mobile app inspired by video phone calls. Learners speak naturally, in their own words, responding to situations presented by colleagues or customers. The AI delivers immediate, personalized feedback: Did they take the right perspective, convey the right ideas, and ask the right questions? Guided practice continues until they achieve conversational fluency. Then they progress through the story.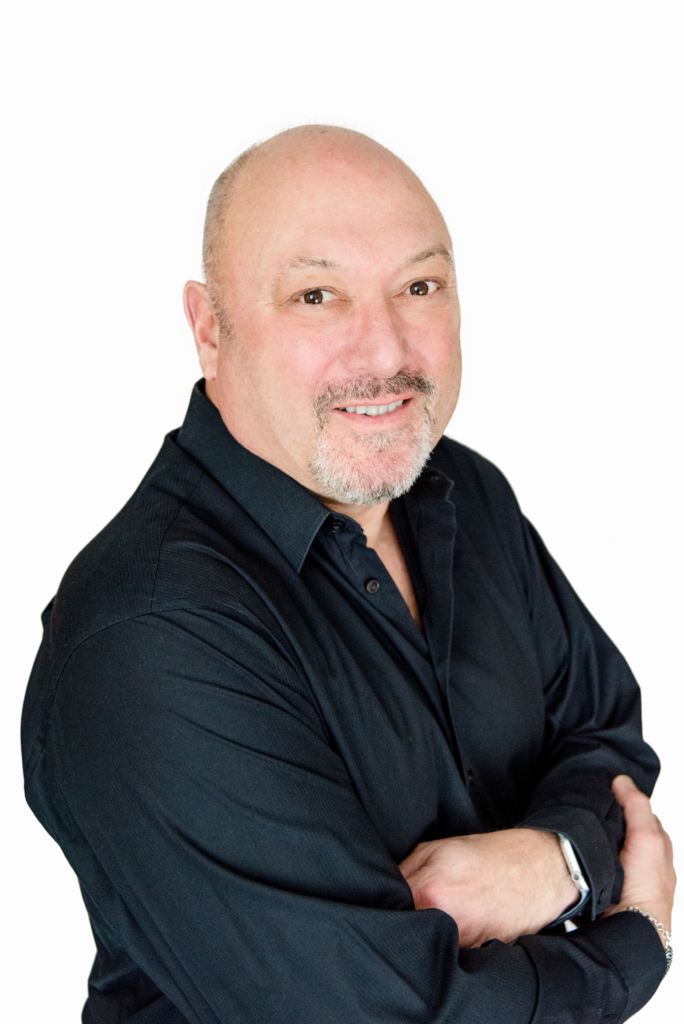 We've been working with several industry leading early adopters, and the results have been promising. Because we can measure the components of conversations, we can assess baseline skills, rate of progress, and level of mastery. AI-guided practice can make a difference. In one group of learners working on front line manager skills, students failed to handle over 92% of their interactions effectively the first time. It took several interactions with detailed feedback (3.5 on average), but over 90% ended up handling the conversations successfully. Moreover, an overwhelming majority of them reported that they had in fact learned something new about being a manager, and that they would apply what they'd learned on the job.
Traditional training, including the eLearning revolution, is focused on knowledge transfer. Interflexion goes beyond knowledge transfer: It reinforces behavior change. We give people the opportunity to apply their knowledge and practice their skills, all within a safe environment. Because it's AI-powered, people can practice anytime, anywhere.
Realistic role-play, guided by conversational AI and available on mobile devices, can now deliver personalized coaching at scale.