If you're reading this book right now, there's a good chance you already know that:
B.C.'s tech sector is growing year over year
Dozens of tech giants – including Amazon, Apple, and Shopify – are racing to set up shop in Vancouver
Access to Talent' and 'Access to Capital' are the two major pain points for local companies
We're home to some of the best tech companies in the world that are solving the world's biggest challenges
In other words – we're growing fast, we have challenges to overcome, and the future looks extremely bright.
Yet, despite the mounting momentum and optimistic outlook, it's difficult to pin down exactly what our tech sector will look like ten years from now.
Will we establish ourselves as the country's top tech market? Will our new wave of high-profile startups successfully scale up and become anchor companies in the province? How fast can our regional tech communities grow?
The answer to these questions can determine whether the work that's being done today will fuel the exponential growth our tech sector's capable of over the next decade.
So with that, let's peer into the crystal ball and explore what the future holds for our provincial tech industry.
P R E D I C T I O N S
Earning the distinction of 'the world's top cleantech hub' can be subjective and hard to quantify. But, there are a few indicators that can certainly tip the scales in B.C.'s favour.
As it stands right now, our cleantech sector is already the envy of tech jurisdictions across the globe. Each year, multiple B.C. companies crack the Global Cleantech 100 List, with some ventures earning this recognition on an annual basis. Our biggest companies have an army of blue-chip investors at their backs, including Jeff Bezos and Bill Gates. And all levels of government have made strong commitments and investments to spur cleantech innovations across the province.
With all of this momentum behind us, the next few years offer a huge opportunity for B.C. to stake our claim as a global cleantech leader.
We'll start to see outcomes from Foresight's CORE Cleantech Cluster, which aims to mobilize all of the key players in the
B.C. cleantech ecosystem to collaborate on projects and enhance the province's reputation as a hotbed for high impact cleantech innovation.
We'll see flagship companies like General Fusion, Terramera, and Saltworks change the way the world harvests energy, grows food, and treats wastewater, while early-stage ventures like Open Ocean Robotics, Acuva Technologies, and Delta-Q Technologies take meaningful steps to scale their ventures and save the planet.
As the world moves towards a carbon-free future, B.C. tech companies will play a pivotal role in shaping the global green economy.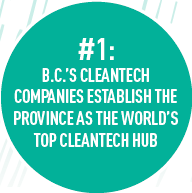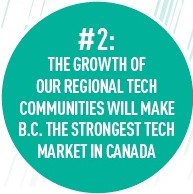 Over the next decade, B.C.'s tech sector will continue to experience rapid growth and our regional communities will be the driving force that pushes us forward.
Tech success stories can be found all over the province. Kamloops was named startup community of the year in 2017, the city of Nelson opened a brand-new innovation centre earlier this year, and Cloudhead Games has become an industry powerhouse while operating out of their 8,000 square foot Vancouver Island headquarters.
But the key to our sector's growth over the next decade will be contingent on the continual growth of Victoria and Kelowna.
Both regions have followed a remarkably similar trajectory over the past few years. Their tech sectors each contribute more than $1 billion to their local economies, with Greater Victoria producing an eye-popping $5.22B in total economic impact and employing nearly 17,000 workers. Both regions have standout companies that are raising money, creating jobs, and attracting international attention. And for good measure, they both have direct access to a replenishing talent pipeline through local post-secondary institutions.
Over the next decade, both tech sectors are projected to grow significantly. The Victoria Innovation, Advanced Technology & Entrepreneurship Council (VIATEC) believes the Greater Victoria tech sector can become a $10B economic contributor by 2030. Not to be outdone, their Kelowna-based counterparts at Accelerate Okanagan have presided over their tech sector's 15% year-over-year economic growth since 2013 and are producing a new wave of homegrown success stories like Minga, Trellis, and Tonit.
Simply put, B.C. takes a backseat to no other province and our regional communities will be the driving force in our rise as the country's strongest tech market.
In the last decade, B.C.'s tech sector became known for companies like Hootsuite, Slack, and Avigilon. However, over the last few years, a new wave of high-profile startups has emerged and they're raising unprecedented capital and changing the world with homegrown, B.C. innovation.
Over the next decade, we'll see these companies successfully scale their ventures and become the local anchor companies that are vital for the growth and credibility of a world-class tech ecosystem.
Companies like Terramera, Trulioo, and Semios come to mind, as they're each fresh off significant funding raises that will accelerate their growth over the next few years. Companies that are a bit further away from reaching their full growth potential – but have the potential to become future anchor companies – include life science standout Aspect Biosystems, Squamish-based Carbon Engineering, and AI-powered video creation platform Lumen5.
For years, B.C. has been home to one of the best startup ecosystems in the world. But now, it's time for these startups to take the next step in their journey and become anchor companies that will create jobs, spur economic growth, and ultimately, change the world.