REDEFINING LUX LIVING
The IT capital is the only Indian city to have seen a spike in demand for luxury homes, driven by the city's thriving startup ecosystem, the presence of excellent education and healthcare facilities and improving physical infrastructure.
Bengaluru's residential market is second only to the Mumbai metropolitan region in terms of supply and absorption of new property. Small wonder then that the Phoenix Group, which has been redefining lifestyles in Indian cities, chose Bengaluru to launch two of its uber-luxury projects, Phoenix Kessaku and Phoenix One Bangalore West.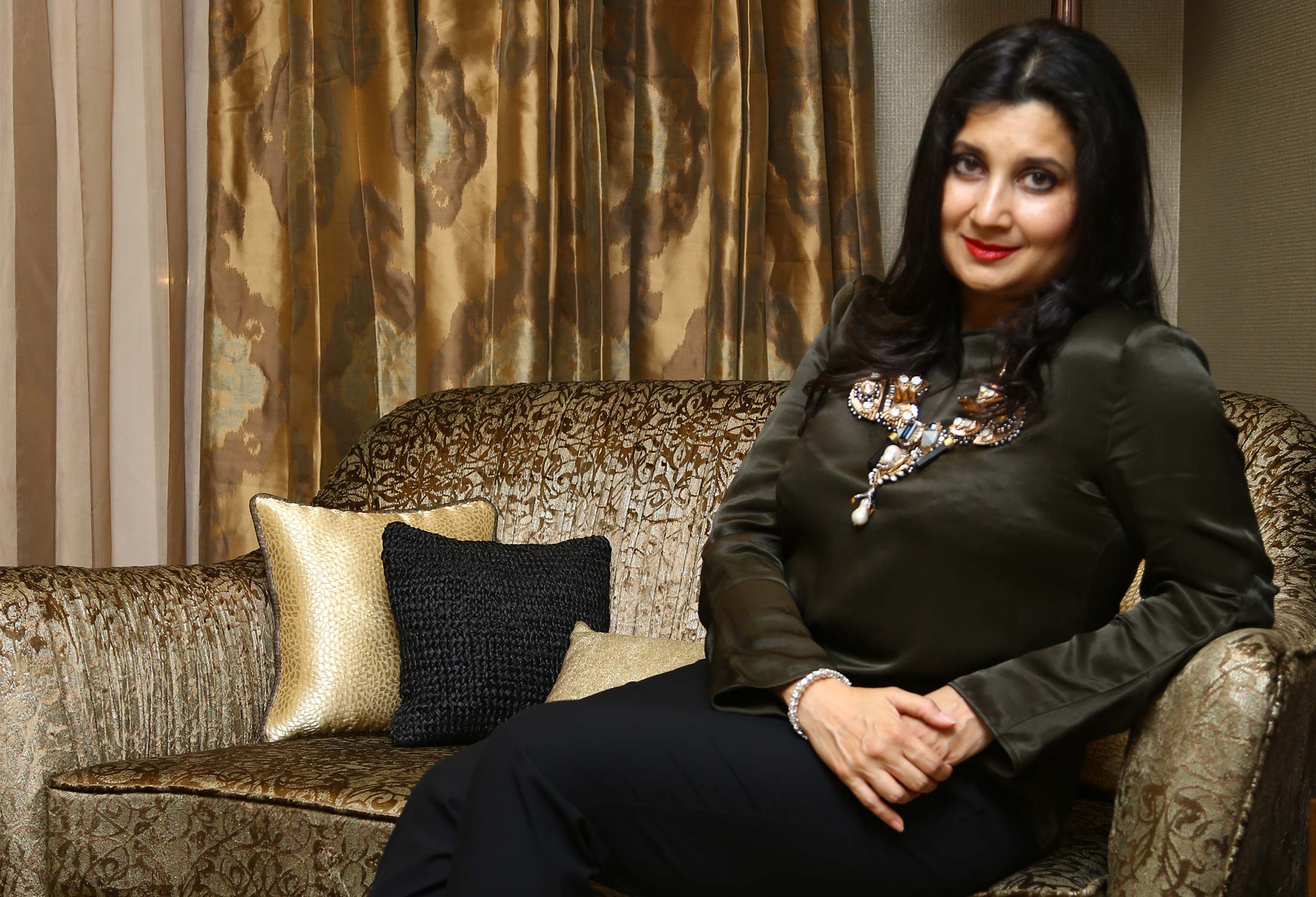 "At Kessaku, our vision was to create a world-class product, the like of which has never been seen before in Bengaluru. With every minute detail having been exclusively crafted by the best in the industry, we have achieved the Art of Perfection", Gayatri Ruia, Promotor, Phoenix Kessaku, who's extended the group's luxury portfolio from retail to residential.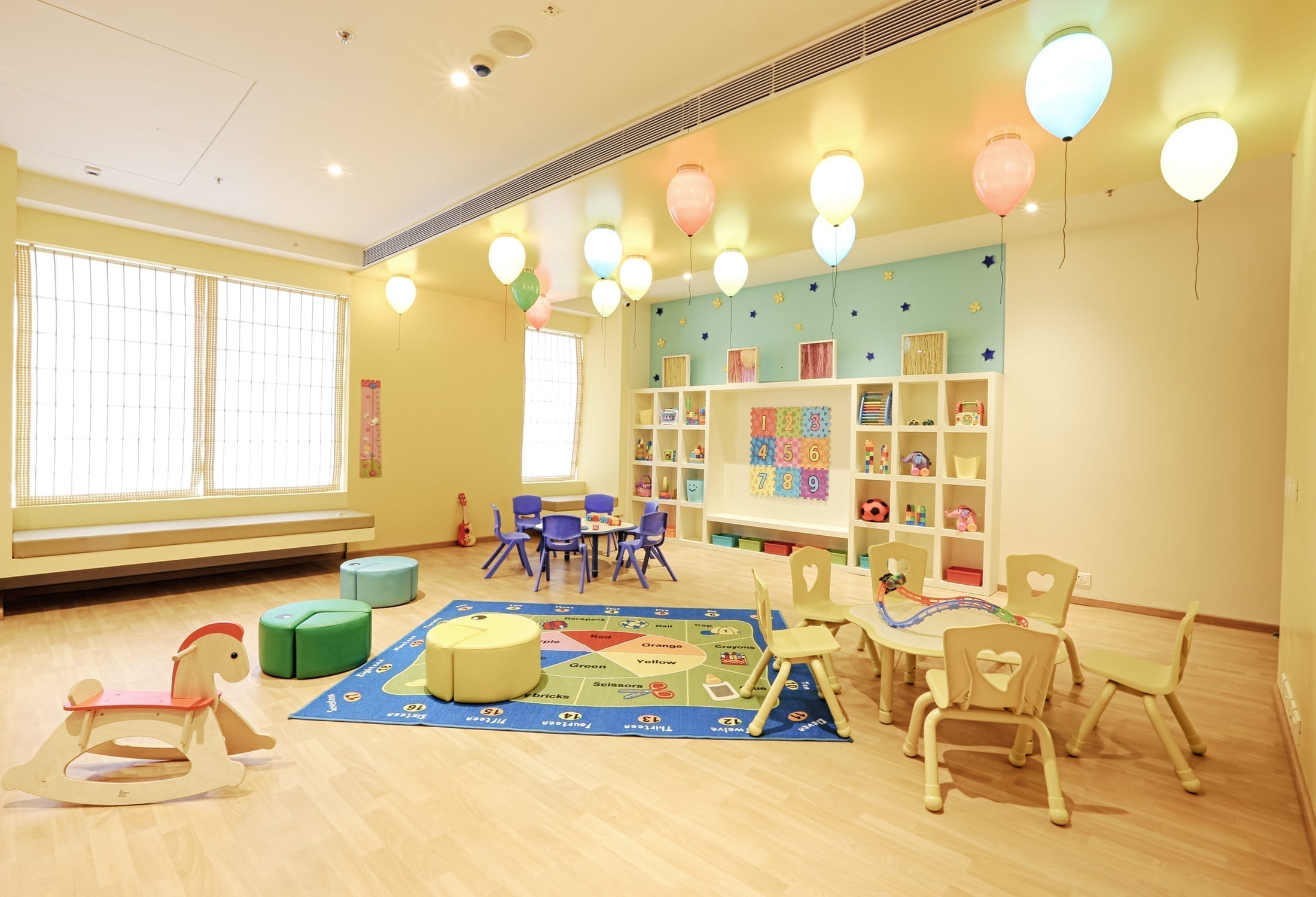 Phoenix Club One Children's playroom
Helmed by a young Managing Director, Atul Ruia, the Phoenix Group has been a pioneer in transforming mill land into modern, multi-use integrated property, with a presence in 10 major cities in the country. From mega-retail malls and entertainment complexes to commercial spaces and hospitality units, the group has a significant footprint in different market segments. The company's recent foray into bespoke residential apartments in Bengaluru is redefining luxury living in the city.
The name of its premier Bengaluru project, 'Kessaku', is a Japanese term for a masterpiece. What strikes the visitor is the sheer expanse of space and the sheer luxury of the interiors.
One can't help but echo Gayatri Ruia, Atul's wife and Promoter, Phoenix Kessaku, when she says, "It has turned out to be an experience that truly wows you, with every minute detail having been exclusively crafted by the best in the industry." Phoenix Kessaku consists of sumptuous and expansive sky bungalows with all the advantages that come with being in a gated community. The five towers in the complex, Sora, Niwa, Mizu, Faia and Zefa, are inspired by the natural elements, sky, earth, water, fire and wind, with thematic artistic lobbies.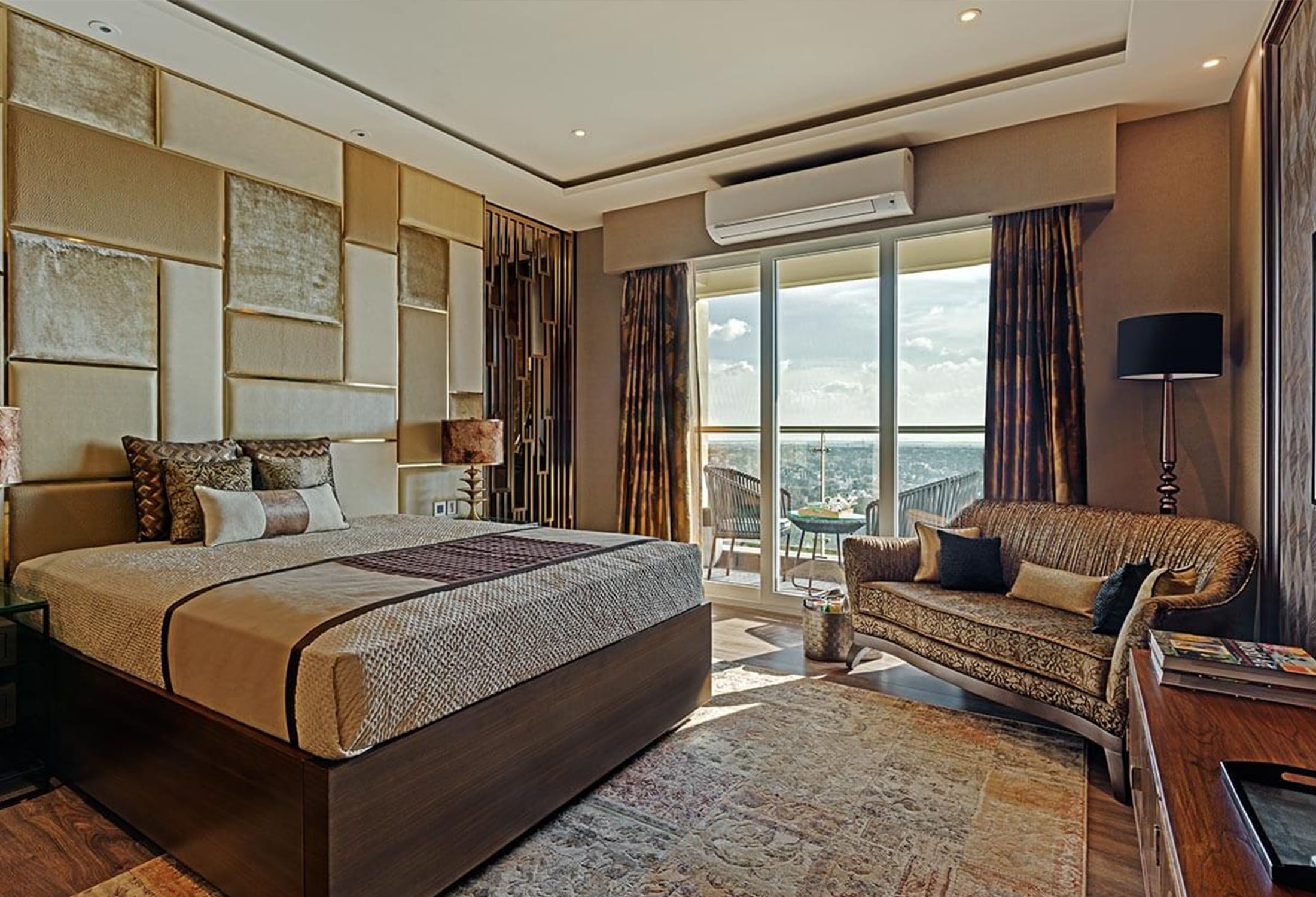 One Bangalore West – Master bedroom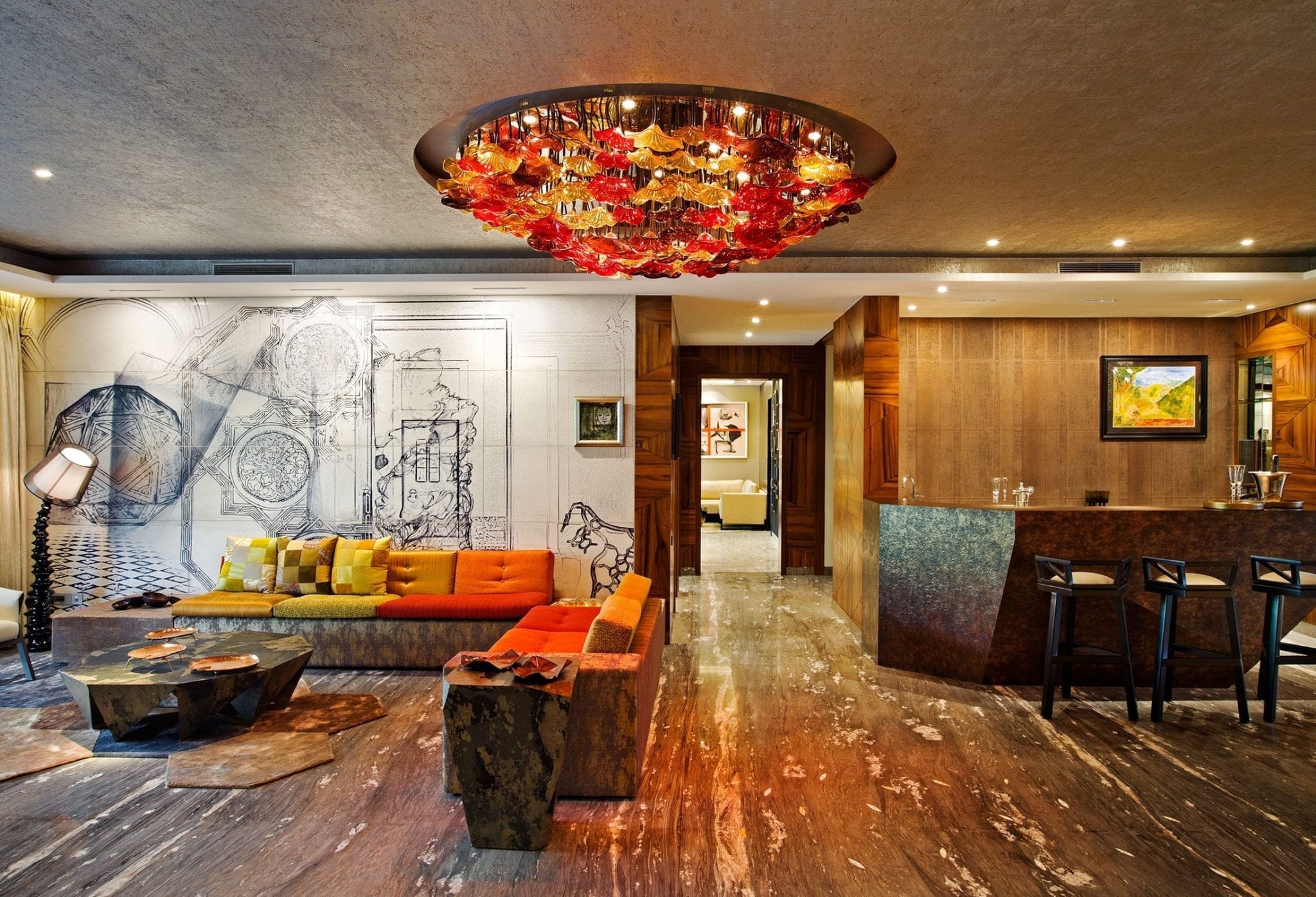 Strongly abiding by the Phoenix Group's core philosophy of high design, attention to detail and world-class experience, the luxury residential complexes of One Bangalore West present a new dimension in bespoke living.
The homes are sized from 6,000 to 12,000 sq. ft and come with a wide variety of layout options that can be customised as per individual lifestyles, ranging from duplex sky bungalows to super-lavish 6 bedroom homes. Each home can be modelled according to an array of fit-out styles that are tailor-made to the client's requirements. Residents will also have three clubhouses to choose from: Midori – The Garden Club, Kaye – The Sky Club and Phoenix Club One, each equipped with state-of-the-art amenities such as a rooftop jogging circuit, a starlit infinity pool, squash courts, jacuzzis, mini-theatres and much more.
Elaborating on his vision, Jae Kim, lead designer, says: "Kessaku is very unique because it is luxury from ground up: elegant living inspired by art. The U-shape of configurations in the plan allows stunning views of the city without any overlook among the residents' own spaces. We have infused green walls and landscapes into the project to stay true to Bengaluru's moniker, The City of Gardens".
Spaces here are painstakingly detailed to flow seamlessly into each other, drawing on the idea of multiple-use, while also creating expansive individualized spaces to retire into. The living room of each residence merges into the dining area and each end of this vast space opens out onto a large deck, ensuring natural light and excellent cross-ventilation. The two consummate master suites are attached to dual vanity suites, the bathrooms are crafted with the finest materials. The children's bedroom takes on the theme of 'wanderlust', while the guest bedroom aims for a casual, understated elegance. The entertainment lounge reaches new dimensions of technological innovation and the library provides the perfect nook for broadening horizons.
The landscape at this luxury project is designed to be a tropical oasis that complements the architecture and features a mélange of over 25,000 trees and plants. Bonsai and Zen gardens, poolside cabana lounges and sunset view gazebos emphasize the Japanese inspiration. Kessaku also comes with the world's finest concierge and butler service, Quintessentially Lifestyle, a London-based outfit of global renown.
Kessaku is very unique because it is luxury from ground up: elegant living inspired by art…– Jae Kim (lead designer) elaborating on his vision.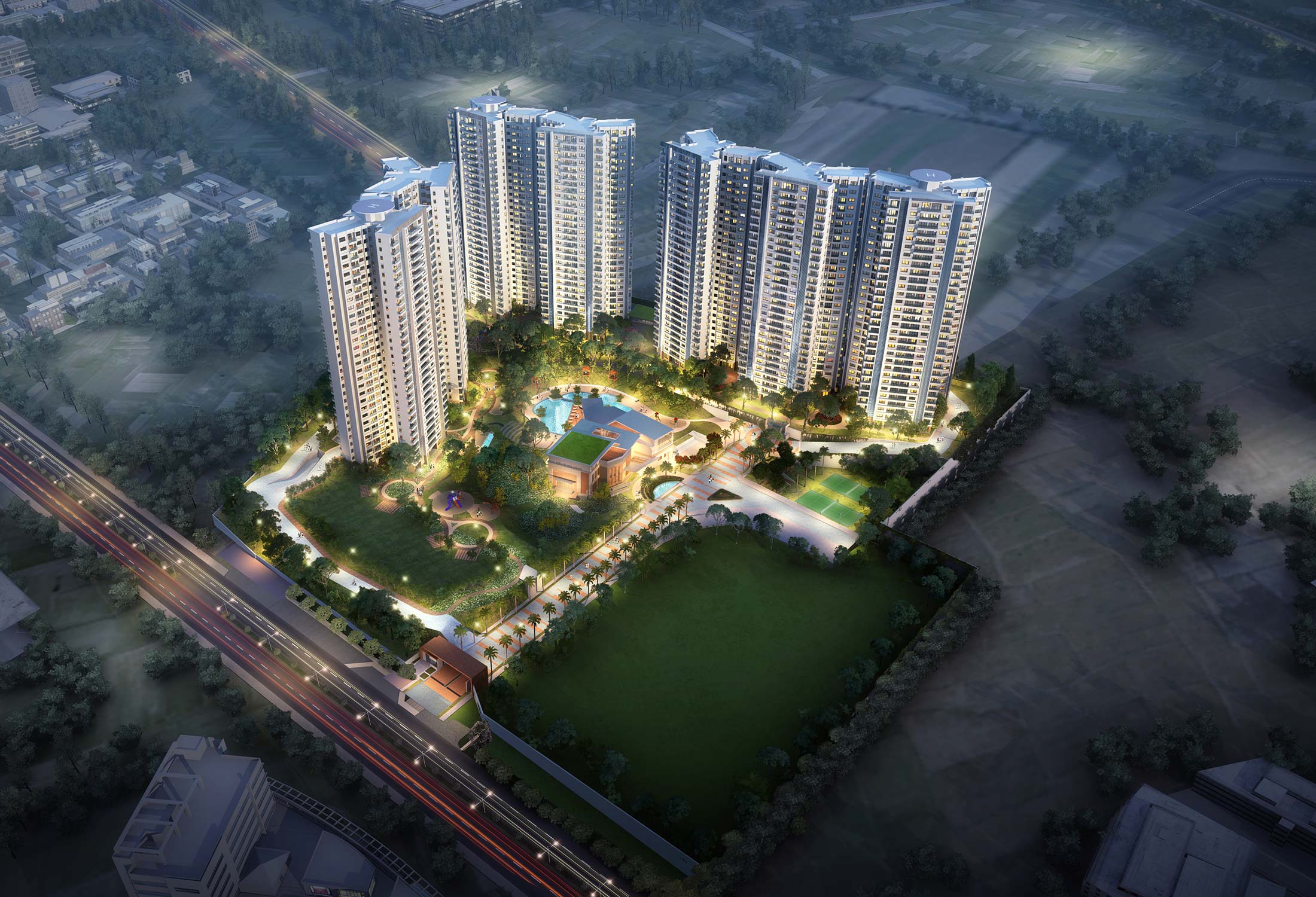 The 30 storey high rise towers of One Bangalore West are a stunning landmark in the city's landscape.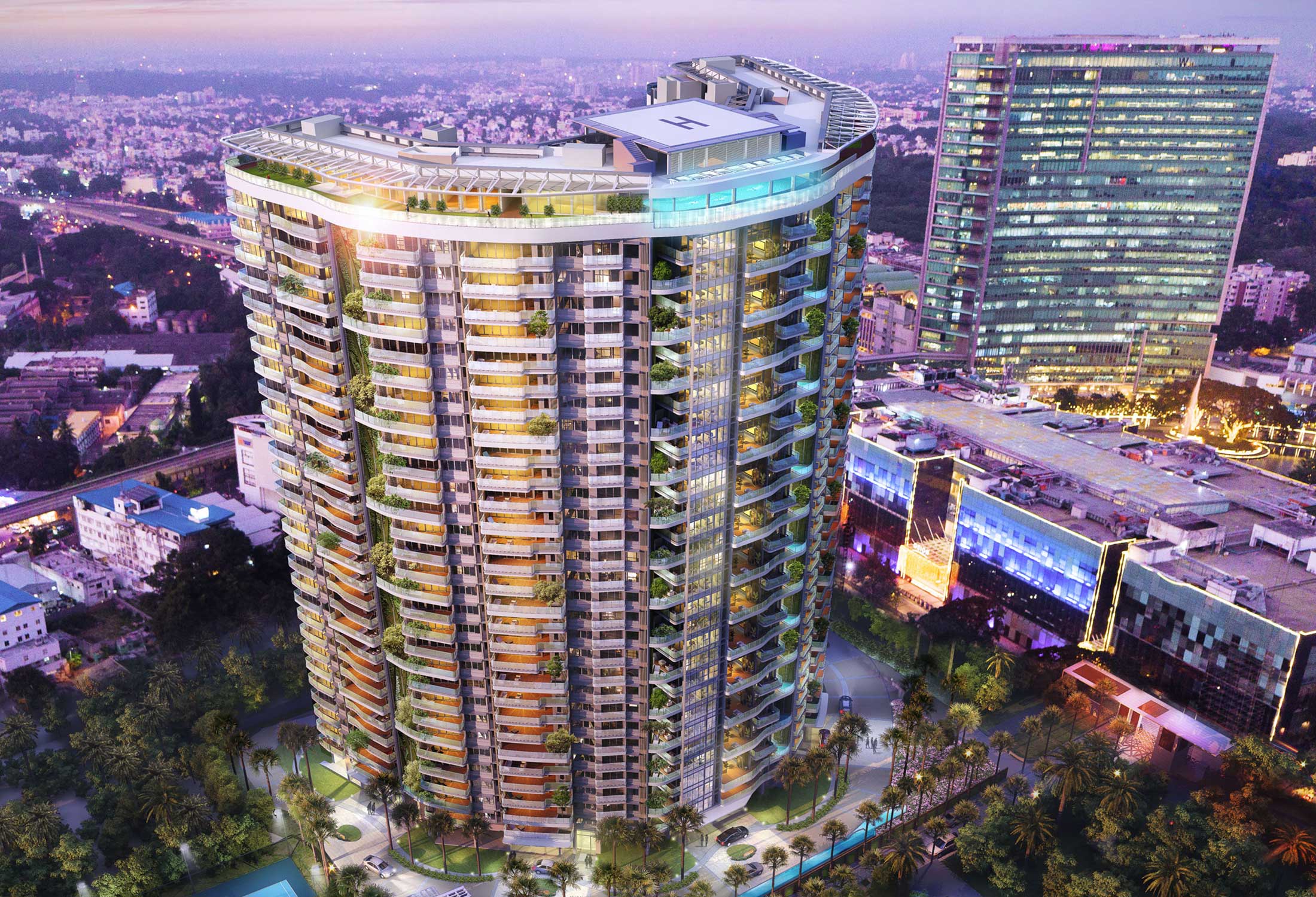 The ultra luxury high end apartments at Phoenix Kessaku are in a breathtaking setting.
Phoenix Kessaku's path-breaking work in the genre of luxury living has won it a neat clutch of awards, including the Asian CEF Awards: Residential Project of The Year- Towers in 2015, the Asia Pacific Property Award for Residential Property Interior – Show Home as well as for Development Marketing in the same year. In 2017, it won the Estrade Real Estate Awards – Luxury Project of the Year which was followed by the Realty Plus Project of the Year in 2018.
Phoenix Kessaku is paired with the Phoenix One Bangalore West precinct, another residential venture by the group. Living spaces at Phoenix One Bangalore West have been carefully crafted to combine luxury and comfort in a perfect balance with zero wastage of space. World-renowned names in the field of architecture and design, such as Benoy, RSP and Design Cell, among others, have collaborated to make a seamless living experience. The handover of Phase I (Tower 1 to 5) of the project was completed on time, owing to speedy construction with every apartment being audited for snags by an external professional agency, achieving snag-free certification.
With only 20 percent ground of the 17-acre area covered by buildings and the rest left open for landscaping and water bodies, the sense of openness allows residents to reconnect with nature and escape the stresses and strains of everyday life. A designer landscape, complete with botanical and Zen gardens, demonstrates One Bangalore West's commitment to 'living green'.
The premium residential towers offer spacious, well-ventilated 4-bedroom homes with family and study areas, 3-bedroom homes, 2-bedroom homes with a family area, select penthouses and exclusive garden flats. Each apartment faces the open green environs of the complex, ensuring privacy for each home in addition to an expansive aerial view of the garden city.
Homeowners can enjoy private outdoor decks offering magnificent cityscapes. The energy-efficient and innovative glass façade design maximizes the impact of natural light and drives cross ventilation. The dining spaces are tastefully decorated with adjacent decks and spacious kitchens to complement the entire vibe. Well-crafted master suites (with attached decks and walk-in wardrobes), imaginative kids' bedrooms and inviting guest bedrooms create a wholesome luxury experience, while exquisite master bathrooms and powder rooms enhance the opulence of the apartment.
The 50,000 sq. ft. lavish Phoenix Club One, designed by Callison, offers members a comprehensive, state-of-the-art recreational facility, customised to fulfill every wellness and recreational need. The clubhouse is equipped with an ultramodern gymnasium, Olympic-sized squash and badminton courts, a well-stocked children's game room, an invigorating spa, a mini-theatre, a library, a compact two-lane Brunswick bowling alley, a temperature-controlled indoor pool, a spacious banquet hall, and a poolside café, amongst multiple other amenities. The double-height sunlit atrium is intelligently crafted to play with natural light and ensure maximum illumination. The break-out activity zones outside are effortlessly integrated into the landscape, offering themed gardens, tennis courts and a multi-level swimming pool, accompanied by private elevated cabanas.
Dedicated drop-off points for every tower with separate access for vehicles ensure safe pedestrian movement and easy access to the complex. Children's play areas are segregated from social circulation spaces in order to create completely carefree environments for them to unwind in.
Phoenix One Bangalore West has won a host of prestigious real estate awards for excellence across various categories, such as the CNBC Awaaz Award for Best Residential Project in Bengaluru city for the year 2015-16, the NDTV Property Award for Luxury Apartment Project of the year in 2016 and the Best Ornamental Landscape, bestowed by the Department of Horticulture, Government of Karnataka, for the years 2017 and 2018. It has also won several Asia Pacific Property Awards over the years for multiple achievements in development marketing, interior design and more.