PamTen is a global technology services company that offers software solutions, enterprise integration services, staff augmentation, and cybersecurity services for small and midsized businesses through to large corporations.
Founded by Chaya Pamula and Prasad Tenjerla in 2007, PamTen utilizes a percentage of its profits to support the lives of underprivileged children through its sister organization, SOFKIN (Support Organization For Kids In Need www.SOFKIN.org).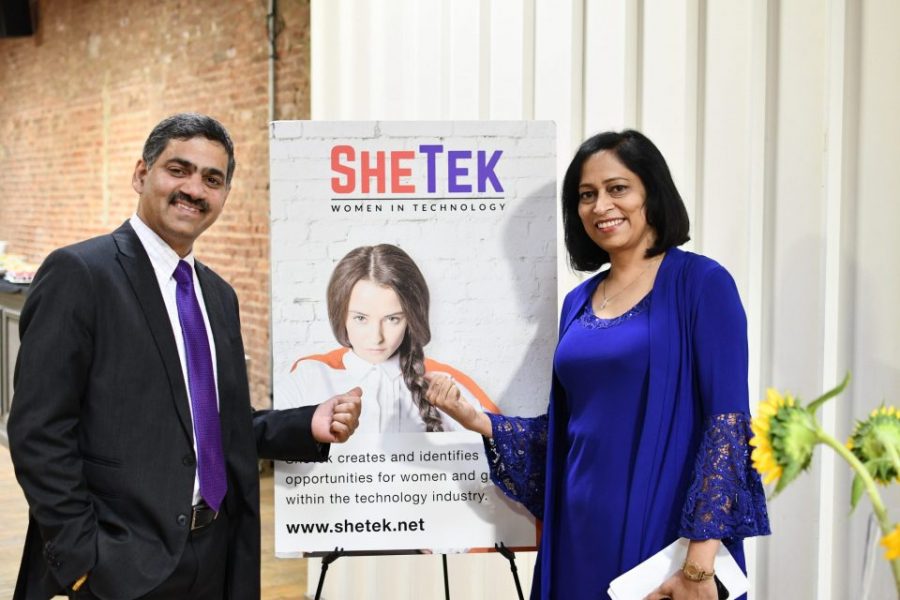 Prasad and Chaya at the SheTek launch
Headquartered in New Jersey, with offices in the USA, Canada, and India, PamTen provides technology support services to organizations all over the world in a wide range of industries that include insurance, financial, manufacturing, energy, pharma, retail, and consumer products.
Chaya explains, "Our clients typically approach us with specific business challenges that require insight into key business data that are required to make informed decisions for better business performance."
PamTen's approach is to discuss the business challenges the client is facing, their core processes, and then assess their current technology portfolio. The PamTen team determines what the deficiencies might be and does a full evaluation of the client's current technology, looking for redundancies, gaps, and inefficiencies. PamTen provides a holistic view of the data so the client can efficiently determine key data elements that can be collected maintained and protected to make timely decisions and improve business performance.
"We help our clients identify the optimal technology solution to their business problem," says Chaya. "And then we help them implement quick wins for an immediate ROI and also help define a roadmap for continuous improvement."
For example, PamTen recently worked with Girl Scouts of Greater New York City. PamTen not only developed the technology strategy and roadmap for the organization but also worked with the Girl Scouts' team to implement those technologies for better organizational performance.
PamTen also serves customers as an outsourced technology center. "Some of our clients are small to midsized companies who don't have the budget to hire technology experts on a long-term basis, " she says. "We help our clients on a part-time or project basis, depending on their business needs."
Staff augmentation has been a part of PamTen's services since the beginning. Through the pool of prescreened, highly qualified, and experienced professional resources with a broad range of skill sets, PamTen is able to fill the technology requirements of our clients with a quick turnaround.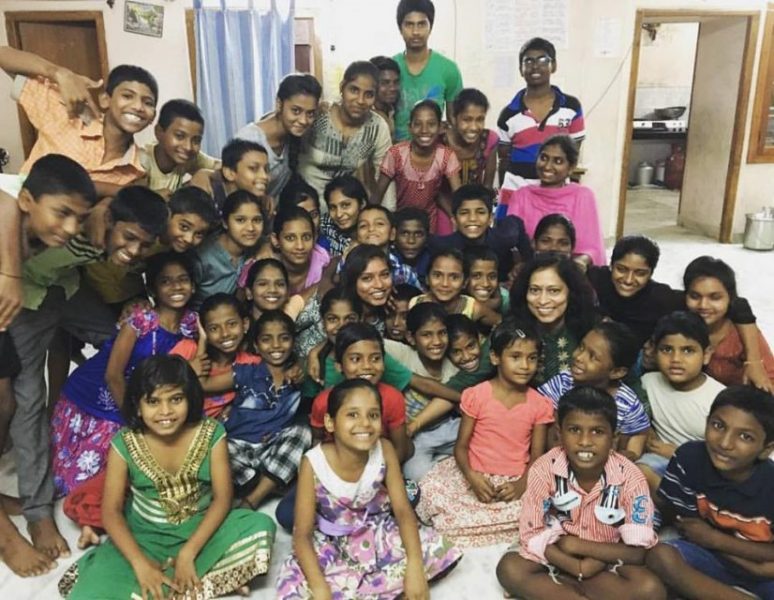 Chaya with the children of SOFKIN
Protecting a company's data and assets has become an increasing concern for businesses of every size and shape. PamTen has been providing cyber security services to large and midsized companies. The team comes into a company and assesses their security risks, reviews and updates their policies, and trains their employees on cyber security awareness and best practices. PamTen presents the client with guidelines to update their cyber security and technology policies for better protection. Another offering is continuous monitoring of the technology systems to ensure compliance to industry security standards.
PamTen has an extremely high customer satisfaction rate, and their business has grown mostly through referrals from clients and employees. "Both our clients and employees feel a strong sense of purpose working with us," says Prasad Tenjerla, COO of PamTen. "We, at the core, believe in our cause to improve the lives of underprivileged children. We do this not only with financial support, but also with internships and employment opportunities for the grown children of SOFKIN," Chaya adds.
Always focusing on creativity and growth, PamTen has developed a number of other products and services, such as a networking and collaboration platform called Bizligo (Bizligo.com), which, combines features of other popular social media platforms. It functions as a social network for business people to connect, collaborate, and grow their networking connections through a powerful personalized ecosystem. This SaaS platform (formerly known as ConnectProGlobal) is available with a variety of subscription plans suitable for organizations of all sizes. Bizligo is used by many networking organizations, Girl Scouts of Greater New York, chambers of commerce, large Facebook groups who have decided to move off that platform due to security concerns, and more.
The PamTen NJ Team at the NJBIA Awards for Excellence
As PamTen has grown, Chaya realized something. "In my own experience hiring for PamTen," she says, "I didn't see many women applying for our open positions. I didn't understand why." She and Prasad Tenjerla decided it was time to do something about that. In 2018, PamTen launched the SheTek initiative (shetek.net), a community whose mission is to raise the percentage of women represented in the technology industry. Hosted on the Bizligo platform, PamTen organizes workshops, panel discussions, internships, mentoring, and job opportunities for women in the technology field to learn, grow, and network. "We've partnered with corporations and local universities as well as entrepreneurs to create a community of women passionate about helping each other, adds Chaya.
At 30% growth each year, PamTen is expanding rapidly. "What's exciting about working with this company," says Chaya, "is that the more revenue we produce, the more lives of children we can transform. So we're very motivated to come to work and give our very best each and every day."
"PamTen is a technology company," she adds, "but what we really value is people, the personal connections and commitment to our clients. If somebody engages us, they will never be disappointed. We've never lost a client because of the strong partnerships we develop with them."