OMNICART-A SAAS PLATFORM AND DELIVERY OPERATING SYSTEM FOR ENTREPRENEURS WHO WANT TO BUILD AND SCALE A DELIVERY BUSINESS, AND WE ARE ON A MISSION TO EMPOWER EVERYONE TO UNLOCK THE POTENTIAL OF ON-DEMAND DELIVERY.
In the same way that Shopify made it easier for anyone to start and scale an e-commerce business, we are making it possible to start and scale an on-demand delivery business. Omnicart can get set up in days, has a world-class end-user experience, and can be used for delivery of any type of products including food & beverage, cannabis, liquor, and consumer goods. The market we are going after is a $10B market today and it is rapidly growing.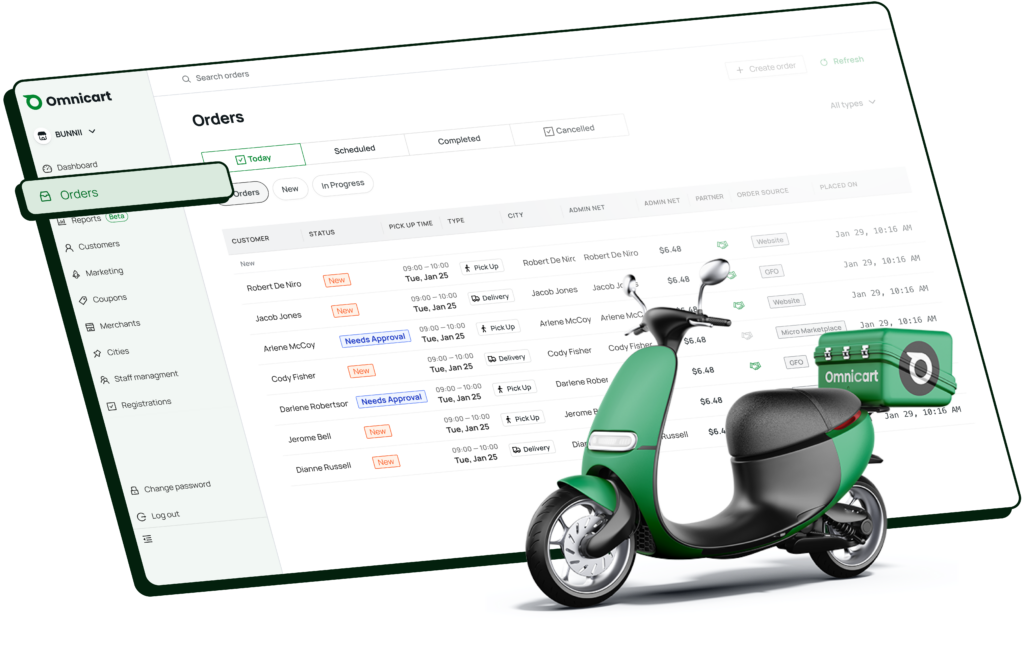 According to Arya Rashtchian, Omnicart was founded to address a significant problem in the industry. While the sector had been grappling with a lack of innovative technology, there was also a distinct shortage of real empowerment among local entrepreneurs. To bridge this gap,
Omnicart has been developing an entrepreneur support platform, which has been designed to be accessible to anyone looking to scale their on demand delivery business. With this platform, customers can leverage a range of innovative tools and resources to help them achieve their long-term goals.
In early 2021, we launched DineEasy, a local restaurant delivery business in a British Columbia city. Within a couple of months, we received thousands of orders per month and attracted up to 10,000 users. Soon, people from other cities reached out to us and asked to license our technology, even though it wasn't very advanced at the time. Because both Nader and Arya had backgrounds in engineering and product development, and their passion for the hyperlocal concept, they made the pivot to become a software provider. They now operate under the name Omnicart.
"We are offering a suite of products to local entrepreneurs, enabling them to provide great services to restaurants and merchants in their community," says Nader Samadyan. "Our product mission is to equip local players with all the necessary tools to receive orders from multiple sources and provide highly satisfactory service to their merchants."
Omnicart is supported by Creative Destruction Lab, the largest startup accelerator in Canada, and First Fund Ventures, the biggest pre-seed fund in Canada. These partnerships have greatly aided our growth over the past year.
Omnicart, which launched its product in May 2021, has formed a formal alliance with the Restaurant Marketing and Delivery Association (RMDA). The RMDA has over 550 members in 700 U.S. cities, and this milestone in 2022 has helped Omnicart expand quickly into the U.S. market.
Recently, Omnicart has partnered with a giant food tech company based in the UK to expand its offerings to clients. The UK-based company is leading Omnicart's $1.5M seed round, paving the way for further growth and scaling for the company.
Nader's and Arya's entrepreneurial skills have been recognized, as they were nominated as one of the top 30 under 30 entrepreneurs in British Columbia.
Nader has achieved a great deal in his career so far, having graduated with a Bachelor of Science in Computer Science from the prestigious University of British Columbia. His time at university gave him a wealth of knowledge and experience that he has since put to good use in the industry. He has worked at some of the biggest names in tech, including SAP and Sony, where he honed his skills as a software engineer. During his time in these roles, he made significant contributions to the design and development of several groundbreaking solutions.
Arya Rashtchian grew up in Tehran and played for the Iranian capital's professional basketball team. In high school, he wanted to leave his conservative homeland but was unable to convince his family to move to Canada. After completing a software degree from Sharif University of Technology, Arya won a scholarship to pursue a master of computer science at the University of British Columbia. During his maters studies, he took an entrepreneurship course called Creative Destruction Lab where he was mentored by professor Darrell Kopke, who helped and advised him to start his own company.