NJBIA-RECLAIMING NEW JERSEY'S STATURE AS THE INNOVATION STATE TO RESHAPE THE ECONOMY, GROW BUSINESSES, CREATE JOBS, AND INVEST IN OUR FUTURE
New Jersey has been synonymous with innovation throughout its history.
The state was the workplace of Thomas Edison – universally lauded as the greatest inventor ever. It is the birthplace of the electric light bulb, phonograph, telegraph, air conditioning, motion picture camera and the Band-Aid, just to name a few.
New Jersey is also home to nine-time Nobel Prize winner Nokia Bell Labs. And we can proudly boast of having the most scientists and engineers per square mile in the world.
As the leading voice for business in our state, and the most impactful statewide business association in the nation, it is only fitting that the New Jersey Business & Industry Association continues to set its vision on supporting New Jersey's effort to re-establish itself as the Innovation State.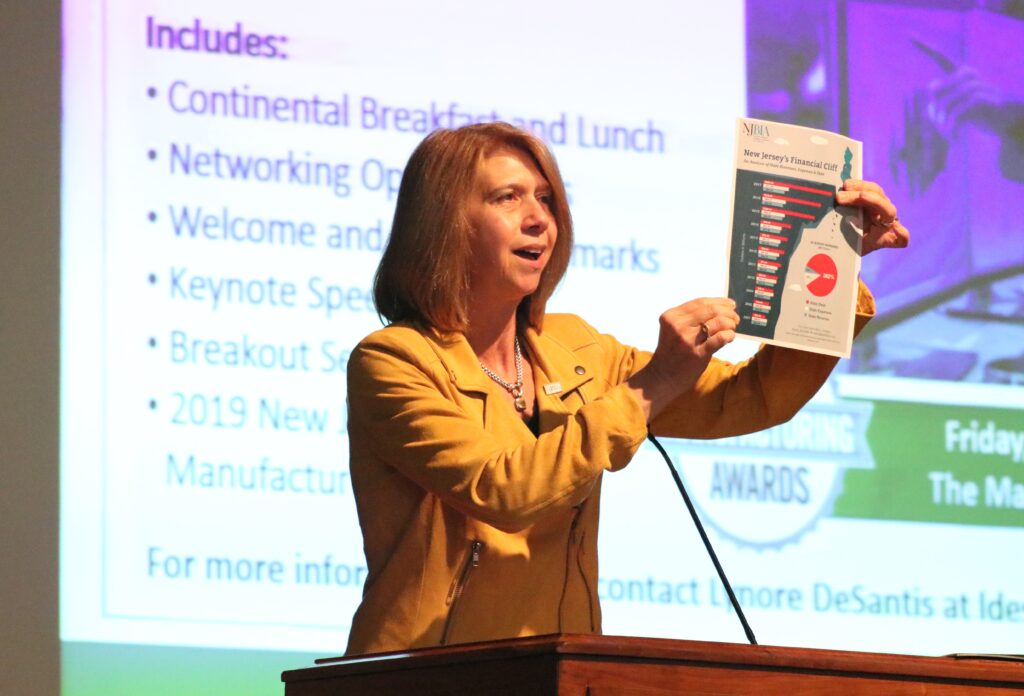 Each day we focus on ensuring that our innovative industries have fertile ground upon which to grow, while we work alongside New Jersey's policymakers to advance an agenda to achieve regional competitiveness and collaboration among academia, business and government leaders in order to succeed.
Recognizing the critical need to understand how to catalyze our innovation ecosphere, NJBIA released an update to its Indicators of Innovation report in early 2022, which looks at how New Jersey stacks up to our competitors in terms of capital, talent and business climate.
Looking at 12 key indicators of innovation and applying an overall score at the culmination of the report, we found the Garden State had slipped behind innovation leaders Massachusetts, New York, Pennsylvania and Maryland to tie for fifth place with Connecticut in our seven-state region.
However, as more of NJBIA recommendations to improve the innovation ecosystem become reality, we can look forward to measurable improvement in the years ahead.
For example, our last analysis found that between 2010 and 2021 New Jersey was the only state in our region to experience a decline in the venture capital investment that is vital to a flourishing innovation ecosystem, but there have been exciting developments since then. The $731 million New Jersey Health + Life Sciences Exchange, a research, business incubator and research center in New Brunswick, is now under construction, and will bring together public, private, and academic sectors in a world-class innovation hub that supports a talent pipeline for innovative companies.
Made possible by the Aspire program, part of the New Jersey Economic Recovery Act of 2020, this new gap financing program supports commercial, industrial, mixed-use, and real estate development projects to create revenue generating assets and well-paying jobs in the innovation economy.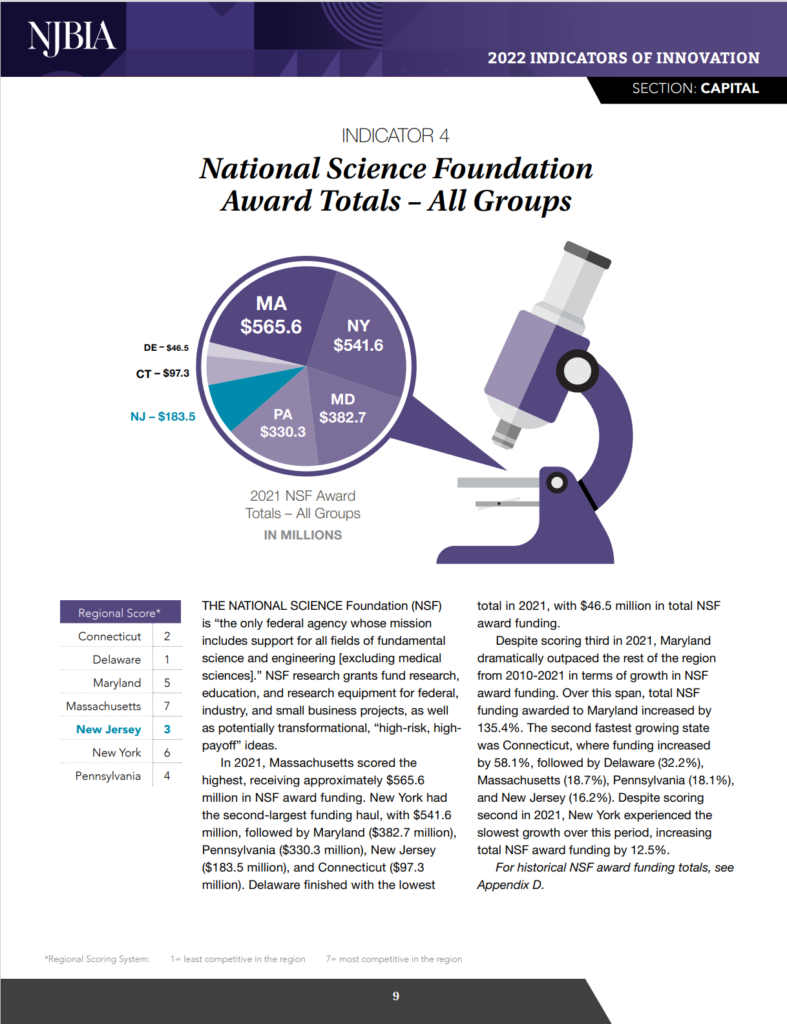 Biomanufacturing is a critical piece of the life sciences innovation ecosystem, and the good news is that New Jersey is now positioned as one of the top five biomanufacturing markets, according to 2023 research from JLL, a leading global commercial real estate and investment management company. JLL bases its assessment on the availability of skilled talent, growing demand, innovation measured by clinical trials and venture capital funding, and industry performance.
NJBIA also has been advancing workforce development initiatives needed to support innovation and reduce the regulatory burdens that styme manufacturing and business growth.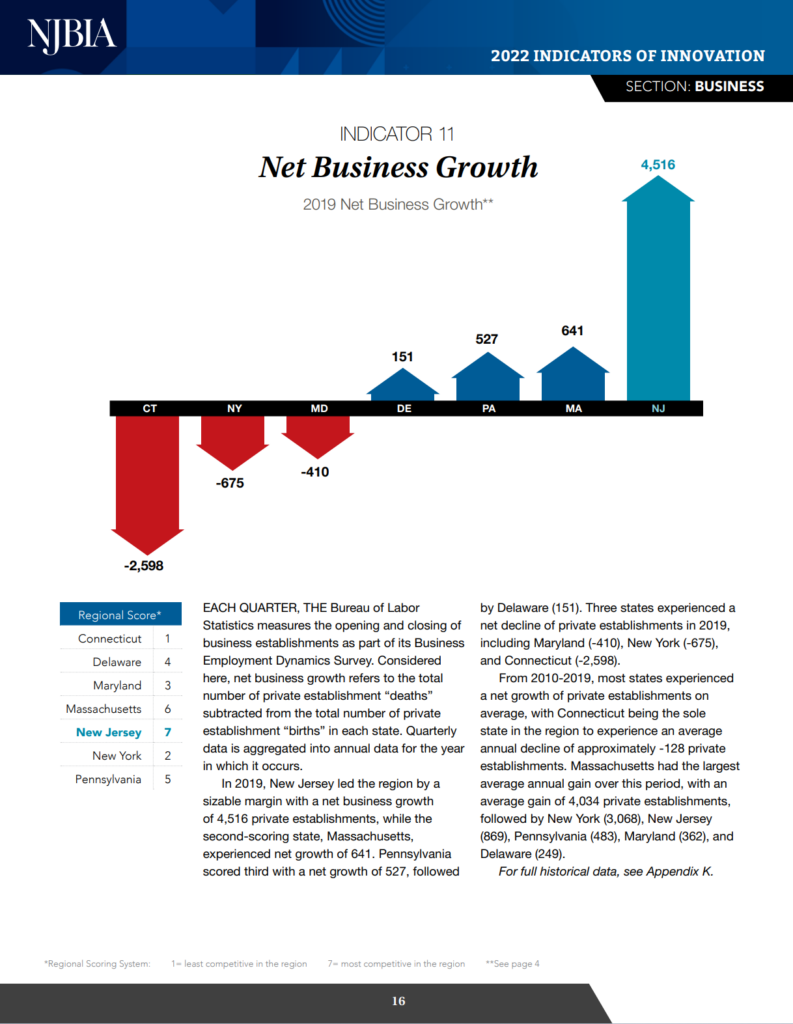 The New Jersey Pathways to Career Opportunities initiative led by the state's 18 community colleges and NJBIA, received a $14.5 million investment from the state. Through this initiative, we are partnering with high schools, employers, and post-secondary institutions to help prepare students for career options in the 21st century economy.
Additionally, we began the FY24 state budget process by asking lawmakers to increase state funding for the successful Career Pathways and Basic Skills Training programs and provide more financial support for cell and gene therapy biomanufacturing.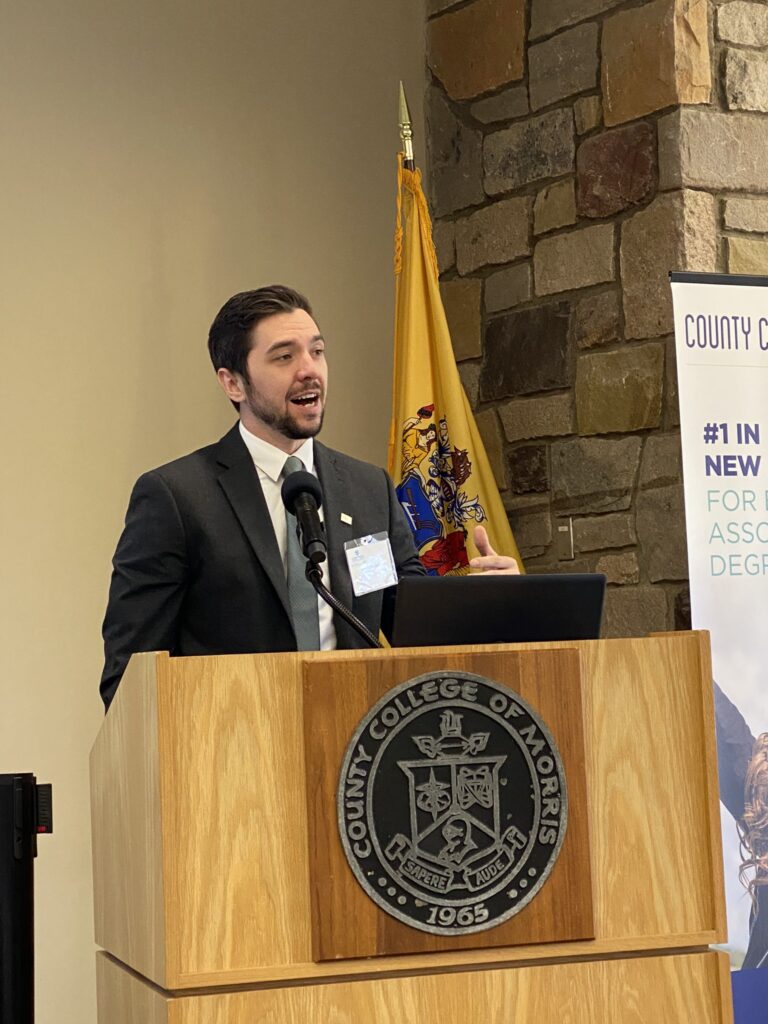 Another big win for New Jersey manufacturers, who are disproportionately registered as corporations, has come in the form of a new law that changed the way global intangible low-taxed income (GILTI), and net operating losses (NOLs) are treated under the state tax code. Additionally, we saw to it that our largest corporations – including many manufacturers – benefited from the sunset of the 2.5% Corporation Business Tax surtax at the end of this year.
Our task of moving the innovation needle forward is attainable, especially when New Jersey leverages its richest assets: an ideal central location between Boston and DC, New York and Philadelphia; a nationally recognized K-12 education system; quality higher education institutions; and a skilled workforce.
Utilizing these assets along with an action plan found in our 2022 Indicators of Innovation Report, encompasses a coordinated response from academia, business and government so that New Jersey reclaims its stature as The Innovation State. Our full report can be found at www.njbia.org/indicators.