Nestlé Purina PetCare promotes responsible pet care, community involvement, and the positive bond between people and their pets. A premier global manufacturer of pet products, Nestlé Purina PetCare is part of Swiss-based Nestlé S.A., a global leader in nutrition, health, and wellness.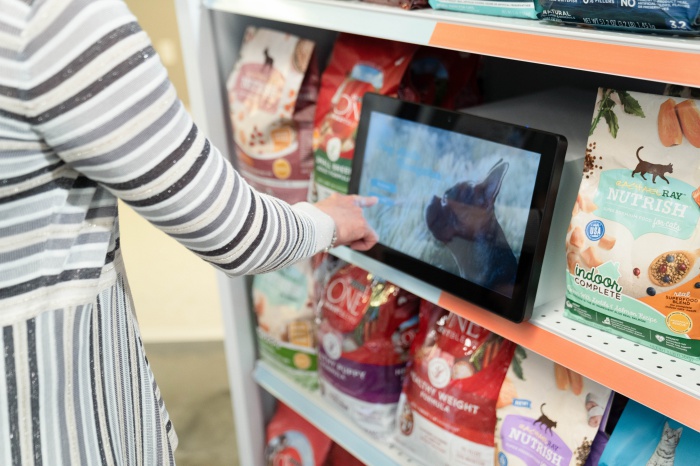 The Retail Innovation Center (RIC) is where Purina demonstrates our Pet category thought leadership and builds stronger partnerships with our retailers.
Since 2001, the RIC has been used as a meeting space to help our Sales team(s) communicate key brand/product innovations within the Purina portfolio using a mock grocery store environment. However, driven by our commitment to continuous improvement, there was a need to reimagine the RIC beyond a meeting facility into a unique innovation experience.
FROM STORE TO STORIES
The most significant transformation of the RIC was removing the store environment and replacing it with flexible stations that bring the pet-owner experience to life. Each station highlights a way to enable category growth backed by Purina's proprietary insights while showcasing emerging retail technology and/or Purina-designed solutions that solve pet-owner pain points or transform behavior to drive business.
The RIC is an immersive and experimental learning lab that constantly evolves and adapts to reflect the rapidly changing dynamics of the Pet category. Every element in the space is custom designed and unique to our lab, making it unlike any other innovation space in the world.

FROM PLACE TO EXPERIENCE
What's truly revolutionary is the way we are engaging our guests. We've developed a new way of working in the facility called "RICx" that is transforming how we interact with retailers. Rooted in principles of design thinking, RICx helps build deeper empathy for pet owners through immersive learning, activates new opportunities through collaborative exercises, and builds clear action plans that enable new business.
This approach positions the broader Purina organization beyond thought leadership and into a thought partnership that keeps retailers excited to come back and continue working alongside our team.