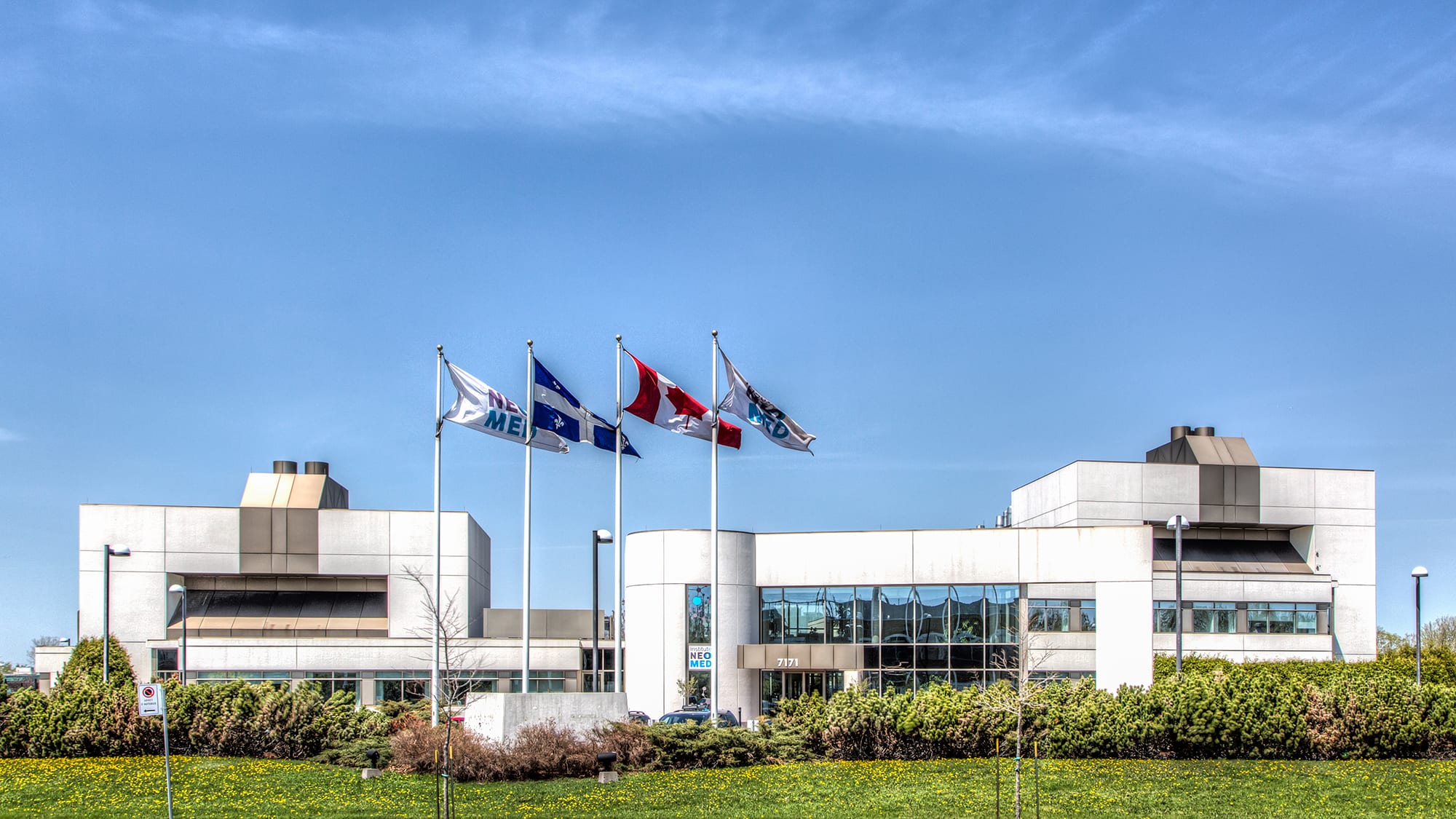 The NEOMED Institute is a non-profit Research & Development (R&D) organization created in 2012, when AstraZeneca closed their pharmaceutical research center in Montreal. AstraZeneca donated the purpose-built R&D site, equipment and three therapeutic discovery programs. The NEOMED Institute has created a true innovation center welcoming a multitude of companies in the LSHT (life sciences and health technologies) sector, for the benefit of the Montreal ecosystem and providing funding for innovative academic research projects through a fund whose contributions come from pharmaceutical companies as well as the governments of Quebec and Canada.
This collaborative economic development initiative is a concrete response from the LSHT community to the global restructuring of the bio-pharmaceutical industry. NEOMED has provided employment opportunities and support to scientists affected by the closure of pharmaceutical research centers in the Greater Montreal area over the past 10 years. Today, the NEOMED Institute is composed of two complementary business divisions: NEOMED Therapeutics, which promotes the commercialization of innovative academic research by supporting project funding from the early stage and by providing leading-edge experience and expertise in project management; and the NEOMED Innovation Center, which operates two drug development sites in Montreal, providing their tenants with access to state-of-the-art laboratories and equipment as well as services essential to drug development.
NEOMED Therapeutics has nine licensed therapeutic programs, three of which have been successfully commercialized, and the NEOMED Innovation Center hosts 32 local and international resident companies employing more than 450 people. The NEOMED Institute is supported by AstraZeneca, Pfizer Canada, GlaxoSmithKline, the City of Montreal, and the provincial and federal governments.
NEOMED Innovation Center, a world-class facility that is
expanding
The NEOMED Innovation Center offers tenant companies turnkey laboratories and offices, including shared support services such as in vivo facilities and analytical services. The size of the site and the concentration of companies has allowed NEOMED to significantly contribute to the growth and development of a truly dynamic community in the LSHT sector. NEOMED's facilities and services include efficient laboratories that maximize the number of researchers per square foot and a range of support services and shared equipment under one roof. The sharing of common spaces (cafeteria, conference and meeting rooms, etc…) also promotes a collaborative spirit and the large number of companies and scientists under one roof contributes to creating a real and vibrant ecosystem.
With a current occupancy rate close to 100%, the innovation center has announced an additional 100,000 square feet of expansion project, planned in two 50,000 square feet phases, on the Technoparc Montreal site. This new building will provide turnkey laboratories for chemistry, biology, offices and collaborative spaces for professionals in the LSHT sector in 2020. At the end of Phase 1 of this expansion project, the Innovation and Commercialization Complex specialized in life sciences and health technologies will welcome more than 200 new scientists, technicians and professionals!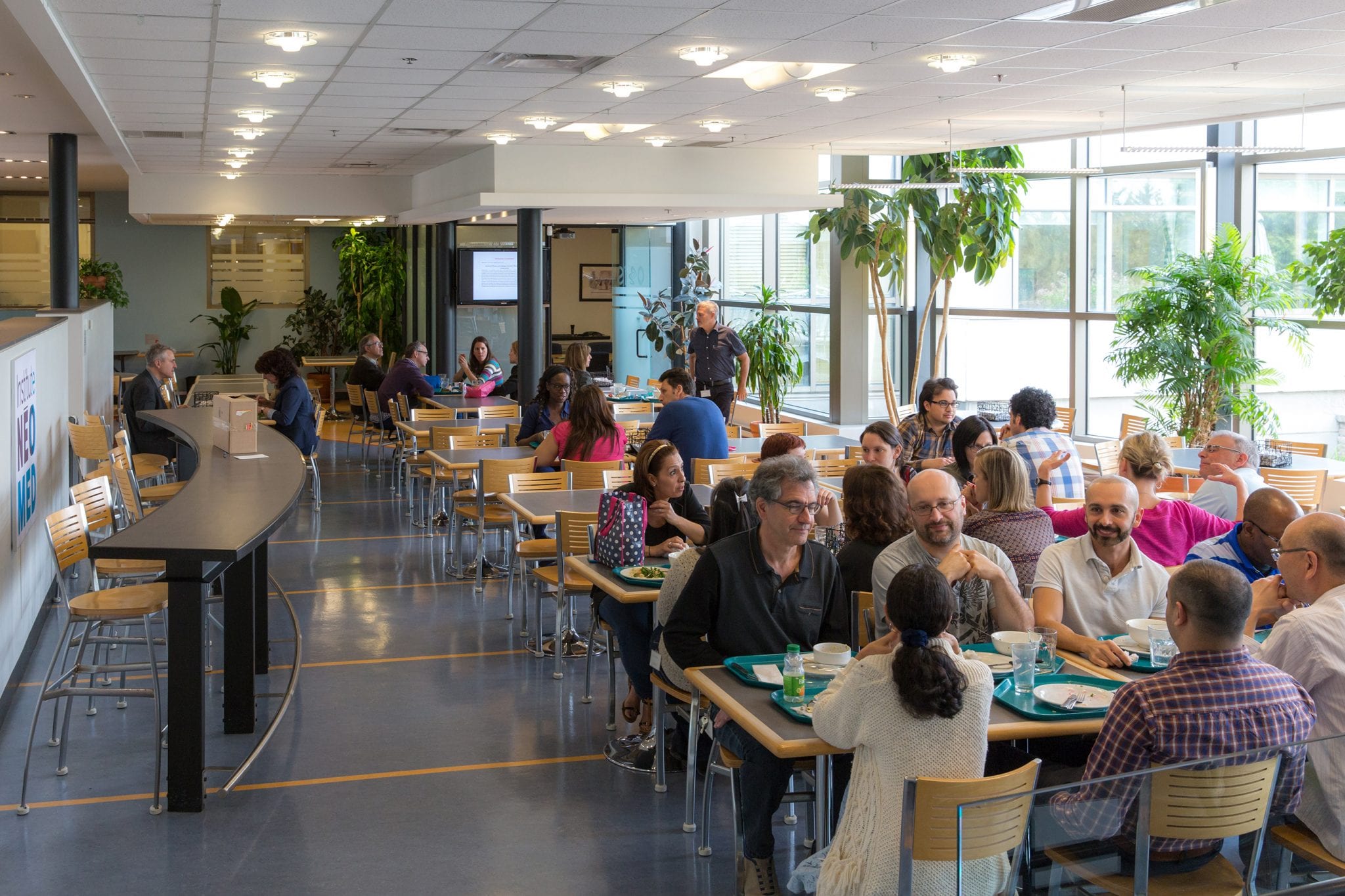 NEOMED Therapeutics, a driver of the growth of the life sciences sector in Quebec
NEOMED Therapeutics' mission is to identify and transform promising scientific discoveries and advance these programs until they can be commercialized for the benefit of the researcher, the NEOMED Institute Quebec and Canada. NEOMED's virtual business model employs experienced project managers who maximize the value of promising therapeutic approaches by developing and implementing an effective and realistic project plan, clearly defining the decision-making process, as well as the financing strategy to advance these approaches towards a successful commercialization phase. Development work is outsourced and often entrusted to the resident companies of the NEOMED Innovation Center.
NEOMED is committed to becoming the Canadian benchmark as an innovation center for LSHT companies. More concretely, NEOMED intends to increase the critical mass of the community by enhancing its offer in laboratories and offices, including shared spaces on the Borough of St-Laurent site, while consolidating its role as a facilitator and catalyst for the economic and commercial development of the LSHT sector in Montreal.
Thanks to the development plans for its infrastructure and those located nearby, as well as the addition of related tools and services, NEOMED intends not only to become the Montreal region's LSHT Innovation and Commercialization Complex, but certainly the largest and most diversified centre of its type across Canada.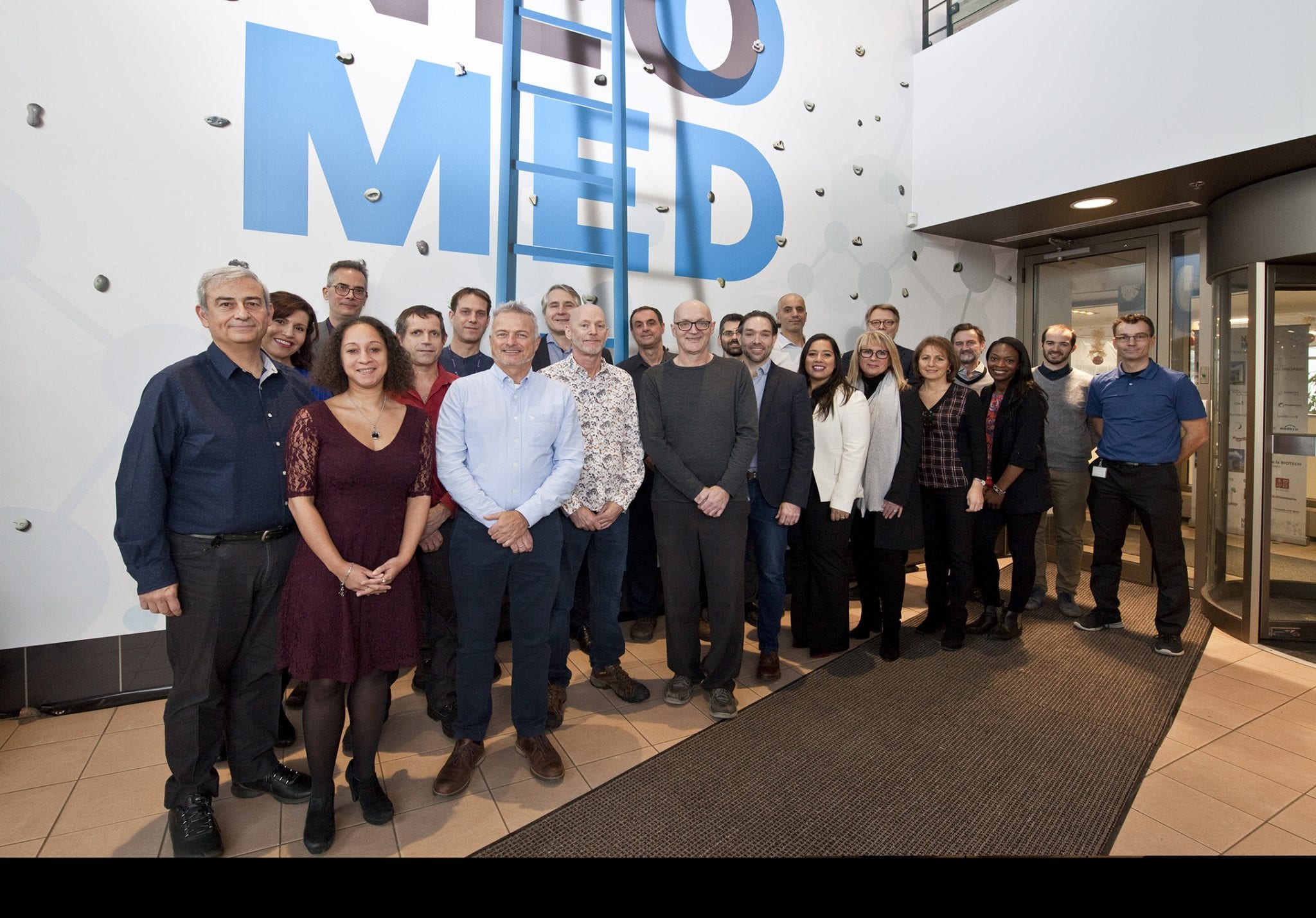 L'Institut NÉOMED est un organisme sans but lucratif dédié à la recherche et au développement créé en 2012, à la fermeture du centre de recherche pharmaceutique d'AstraZeneca situé à Montréal. AstraZeneca a fait don du site de R-D, des équipements ainsi que de trois programmes de recherche thérapeutique. L'Institut NÉOMED a créé un véritable centre d'innovation accueillant une multitude de sociétés du secteur des SVTS (sciences de la vie et technologies de la santé) au bénéfice de l'écosystème montréalais et assure également un financement pour des projets de recherches académiques innovants par l'entremise d'un fonds dont les contributions proviennent de sociétés pharmaceutiques ainsi que des gouvernements du Québec et du Canada.
Cette initiative d'économie collaborative est une réponse concrète de la communauté des SVTS à la restructuration mondiale de l'industrie pharmaceutique. NÉOMED a permis d'offrir des opportunités en matière d'emploi ainsi qu'un soutien aux scientifiques affectés par la fermeture des centres de recherche pharmaceutiques de la grande région de Montréal au cours des 10 dernières années.
Aujourd'hui l'Institut NÉOMED se compose de deux divisions commerciales complémentaires : NÉOMED Thérapeutiques qui favorise la commercialisation des recherches académiques innovantes en supportant le financement des projets et ce dès le stade précoce ainsi qu'en fournissant une expérience et une expertise de pointe en gestion de projet ; et le Centre d'innovation NÉOMED qui opère deux sites de développement de médicaments à Montréal, offrant à leurs locataires l'accès à des laboratoires et des équipements à la pointe de la technologie ainsi que des services de support essentiels au développement de médicaments.
NÉOMED Thérapeutiques compte neuf programmes thérapeutiques sous licence, dont trois d'entre eux ont été commercialisés et le Centre d'innovation NÉOMED recense quant à lui 32 compagnies résidentes locales et internationales employant plus de 450 personnes. L'institut NÉOMED est soutenu par AstraZeneca, Pfizer Canada, GlaxoSmithKline, la Ville de Montréal ainsi que le Gouvernement provincial et fédéral.
Le Centre d'Innovation NÉOMED, une
infrastructure de calibre mondial en
croissance
Le centre d'innovation NÉOMED offre des laboratoires et des bureaux clés en main, incluant des services de soutien en partage tels des installations in vivo et des services analytiques. La taille du site et la concentration d'entreprises a permis à NÉOMED de contribuer à la croissance et au développement d'une véritable communauté dynamique du secteur des SVTS. Les installations de NÉOMED et les services proposés comprennent des laboratoires efficients qui maximisent le nombre de chercheurs au pied carré, une offre de services de soutien et des équipements en partage sous un même toit. Le partage des espaces communs (cafétéria, salle de réunions et de conférence) favorise en outre un esprit collaboratif et le nombre important d'entreprises et de scientifiques sous un même toit contribue à créer un écosystème réel et dynamique.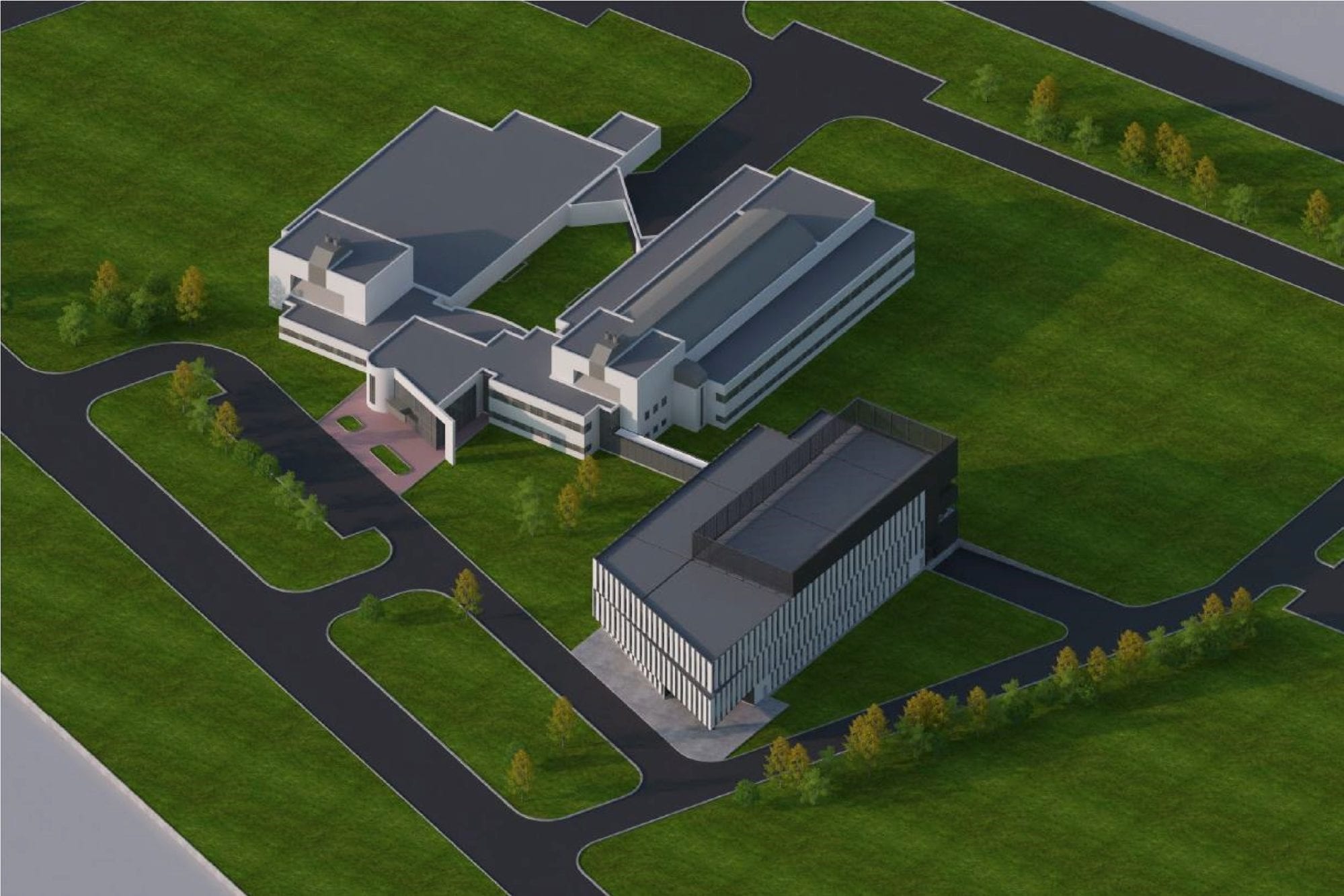 Avec un taux d'occupation actuel proche de 100%, le centre d'innovation a annoncé un projet d'agrandissement de 100 000 pieds carrés supplémentaires, prévu en deux phases de 50 000 pieds carrés, sur le site du Technoparc de Montréal. Ce nouveau bâtiment fournira en 2020, des laboratoires clé en main pour la chimie, la biologie ainsi que des bureaux et des espaces collaboratifs pour les professionnels du secteur des sciences de la vie et des technologies de la santé. À l'issue de la phase 1 de ce projet d'expansion, le Complexe d'Innovation et de Commercialisation spécialisé en sciences de la vie et technologies de la santé accueillera plus de 200 nouveaux scientifiques, techniciens et professionnels !
NÉOMED Thérapeutiques, un moteur de la croissance du secteur des sciences de la vie au Québec
La mission de NÉOMED Thérapeutiques est d'identifier et de transformer des découvertes scientifiques prometteuses et de faire progresser ces programmes jusqu'à ce qu'ils puissent être commercialisés, au profit du chercheur, de l'Institut NÉOMED, du Québec et du Canada. Le modèle d'affaires virtuel de NÉOMED implique des chefs de projet chevronnés qui maximisent la valeur des approches thérapeutiques prometteuses en élaborant et en implémentant un plan de projet efficace et réaliste, en définissant clairement le processus décisionnel, ainsi que la stratégie de financement afin de faire progresser ces approches vers une phase de commercialisation réussie. Le travail de développement est externalisé et souvent confié aux compagnies résidentes du Centre d'innovation NÉOMED.
NÉOMED est déterminé à devenir la référence canadienne en tant que centre d'innovation pour les entreprises des SVTS. Plus concrètement, NÉOMED entend grossir la masse critique de la communauté en rehaussant son offre en laboratoires et bureaux, incluant des espaces en partage sur le site de l'arrondissement St-Laurent, tout en consolidant son rôle de facilitateur et de catalyseur du développement économique et commercial du secteur des SVTS à Montréal.
Grâce aux plans de développement de son infrastructure et de celles situées à proximité, ainsi que l'ajout d'outils et de services connexes, NÉOMED entend non seulement devenir le Complexe d'innovation et de commercialisation des SVTS de larégion montréalaise, mais certainement le centre le plus grand et le plus diversifié de ce type au Canada.