The Quartier de l'Innovation (QI) is a 3 km² world-class experimental area in the heart of Montréal.
Its mission is to foster a one-of-a-kind innovation ecosystem where experimentation and collaboration between academics, entrepreneurs, and residents generate benefits for society. Its boundaries stretch from René Lévesque Boulevard to the Lachine Canal from north to south, and from McGill Street to Atwater Avenue from east to west. The QI is supported by the Government of Canada, the Government of Quebec, the City of Montréal, four universities (École de technologie supérieure (ÉTS), McGill University, Concordia University and Université du Québec à Montréal (UQAM)) and close to 30 private partners.
What distinguishes the Quartier de l'Innovation from other ecosystems is the cutting edge connectivity of its Open-Air Lab infrastructure and its team in support of innovators.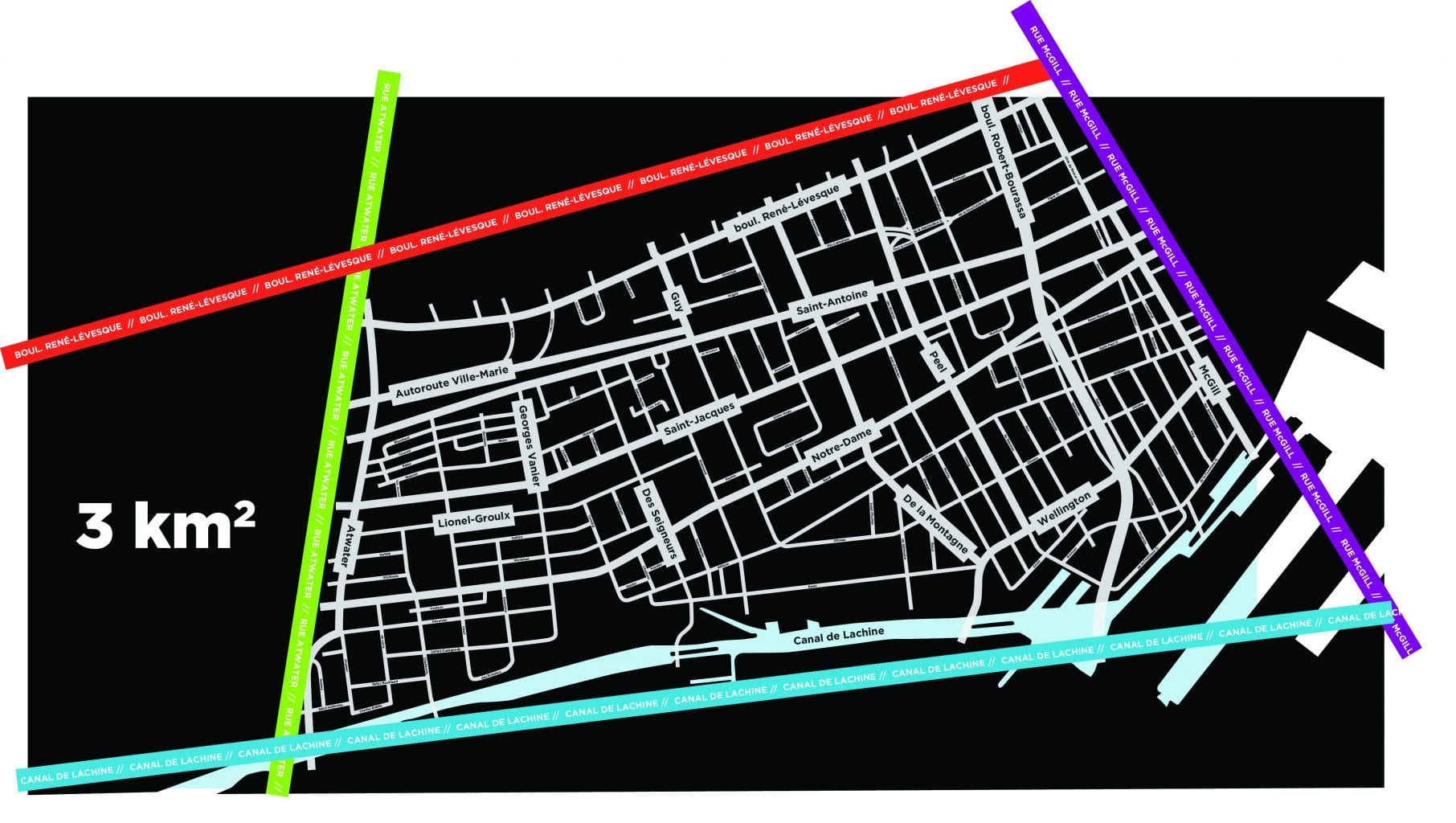 An Open-Air Laboratory for Smart Living that serves residents
The Quartier de l'Innovation is home to the first Open-Air Laboratory for Smart Living, launched by Videotron, Ericsson Canada, ÉTS and the Quartier de l'Innovation. This infrastructure allows the field testing of tech applications that could simplify the daily lives of Quebecers thanks to 5G and other next-generation networks. The Lab also receives support from K2 Geospatial, the tech giant IBM and the ENCQOR partnership. These partners are essential to the development of forward-looking projects, including:
Emotion measurement technology, in collaboration with the Montréal startup MoodShine;
Smart bus shelters;
An autonomous shuttle pilot project.
The lab is in constant motion. Several other major projects will be announced during the year.
An area bursting with creativity
The Quartier de l'Innovation's ecosystem evolves daily. Here are a few companies that moved in this last year:
FACTRY the school of creativity, chose to settle in the QI a year ago and has quickly become an essential part of the Quartier. Its creative approach teaches entrepreneurs to view their problems from new perspectives.
CENTECH has set up shop in the old Dow Planetarium: Centech is a cutting-edge technology incubator that recently moved to the Quartier de l'Innovation and, more precisely, into the historic building that once housed the Dow Planetarium. Centech's mission is to host entrepreneurs whose projects show strong commercial potential in order to help them become world leaders in their industry.
LA PISCINE a cultural accelerator: La Piscine is a cultural and creative business accelerator that is preparing to join the Quartier de l'Innovation. One of La Piscine's mandates is to facilitate collaboration between people from various backgrounds – e.g., fashion, architecture, and new media – so that they can experiment with the human experience together.
This innovative ecosystem's community can also count on our team to support them in carrying out projects that will shape the Quartier and help make Montréal a leader in the field. Come work with us!