GetSetUp is an online platform that offers programming tailored to active agers or older adults who are looking to engage in various activities, learn new skills, and stay socially connected. The platform aims to provide a supportive and engaging environment where older adults can explore different topics, ranging from technology and wellness to hobbies and creative pursuits.
What they do
GetSetUp's programming often includes virtual classes, workshops, and events led by experienced instructors or facilitators.
These sessions cover a wide range of subjects, including but not limited to: technology, health and wellness, fitness, hobbies and creative pursuits, financial literacy, cultural and educational topics, virtual travel and travel tips, and professional development best practices.
Sessions and activities focus on personal growth and aging better. To learn more, visit https://www.getsetup.io
Founding story
Rooted in their core values of hospitality and empowerment, Neil, Lawrence, and Deval embarked on a transformative journey with GetSetUp. Driven by a deep love for their aging yet vibrant parents, they envisioned a platform where wisdom seamlessly intertwined with technology. Guided by the belief that curiosity knows no age, they saw their parents yearning to remain active and engaged in a digital era. GetSetUp became the conduit to bridge generations, offering tailored classes and curated exploration. It empowered retirees to both teach and learn, fostering a circle of knowledge and connection. In this commitment to honoring the past, while embracing the future, GetSetUp's essence emerged as a beacon of possibility.
Founding principles
Provide a safe, fun, and interactive way for older adults to interact with their peers and discover new passions and purposes.
Provide digital training and adoption for older adults to ensure they can maintain their independence.
Create a community for older adults who may face social isolation or mobility issues.
Provide economic opportunities for older workers who are often overlooked or face ageism in hiring processes.
Provide learning opportunities for older adults to help prevent cognitive decline, keep them healthy, and allow them to follow their dreams.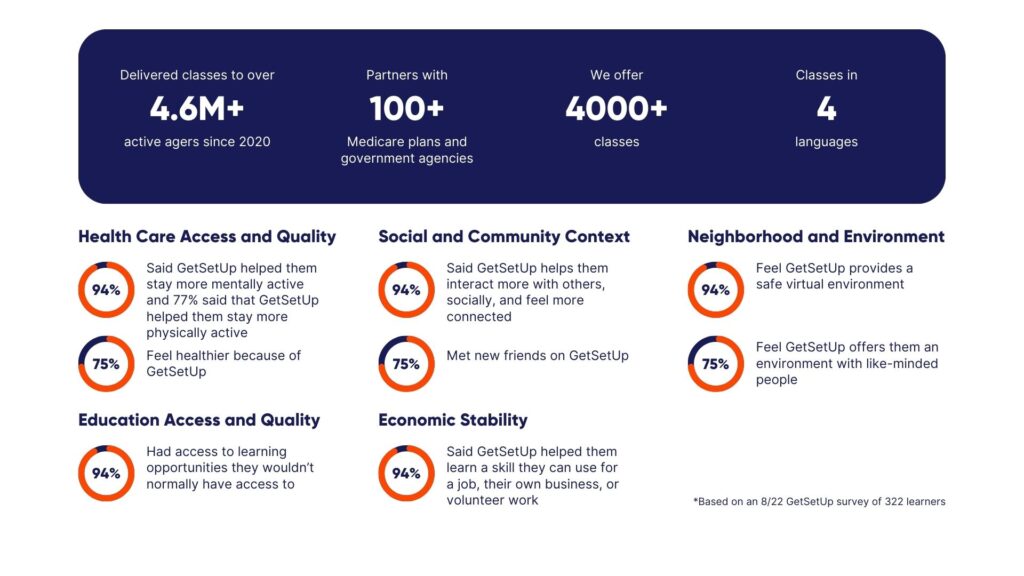 What sets GetSetUp apart
The safe, social, and interactive learning environment has been specifically designed for active agers.
Classes are led by peers–specially trained GetSetUp Guides and Community Hosts.
Programming offers opportunities to interact, ask questions, and get the time and attention needed to learn.
There is an end-to-end experience adjusted specifically for this audience to make it easy to find, register, and engage in classes.
The platform brings people together from all over the world who share common interests and goals. Learners can even teach classes and earn additional income.
GetSetUp offers custom-programming solutions with access to an extensive catalog of thousands of classes, which allows organizations to create their own e-Learning channel, host their own events, or even create custom-branded programming with a supportive team to help them meet their goals.
Reach
With a user base of millions of learners around the globe, the platform has attracted a diverse audience. There is programming available in English, Spanish, Mandarin, and Hindi. GetSetUp has a presence in the US, UK, Australia, and India, with additional locations in the pipeline.
Looking ahead
Growing as you age, physically, mentally, and socially, is vital. GetSetUp understands this well. It offers tailored online learning to seniors, keeping them active, sharp, and connected. With GetSetUp, older adults thrive physically through wellness, stay sharp mentally with engaging content, and enjoy a social community.
The impact is immense. Generations blend, bonds form and lives fl ourish. Looking ahead, GetSetUp aims to reach 40 million older adults worldwide within 5 years. It's a journey of enrichment, weaving curiosity, well-being, and togetherness into the fabric of aging, embracing a brighter future for all.