Fluster Creations is a purpose-driven business that strives to reduce loneliness, bridge division, and support wellbeing through play. Their core product is FLUSTER, a social card game that uses a deck of unusual questions to inspire thought-provoking conversations, bring out memorable stories, and create opportunities for personal reflection and deeper connection.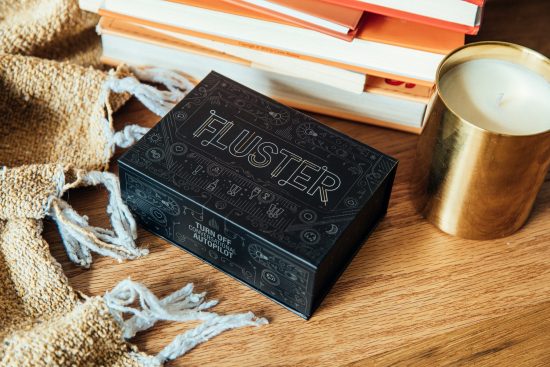 The questions in FLUSTER have been carefully crafted as a way to access the topics that we all think about, but don't always find a place for in everyday conversations. The simple gameplay incentivizes players to not hold back on the juicy details. In a game of FLUSTER, you might get asked questions like:
"What was your last small act of rebellion?"
"What's something that still makes you nervous, no matter how many times you do it?"
"Who in your life sees you the way you wish everybody saw you?"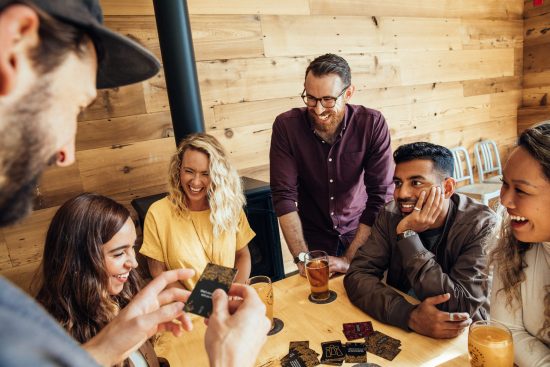 The Inspiration
Fluster Creations is operated as a side hustle by Devon de Balasi Brown and Walker Banerd, who have been friends since they were five years old. They created Fluster after a memorable experience Devon had way back in 2012. He was sitting naked in a natural hot spring with two old friends and a few strangers. One of the strangers was a man who loved to travel the world, and he asked the group a handful of unusual questions that he had asked people all throughout his travels.
In the course of the night, these questions revealed things Devon never would have learned about his close friends and himself. Not only that, the whole group bonded, and spent the next couple of days together.
Weeks later, Devon was still thinking about that night, and he told Walker about the experience. Together, they started thinking about the ways they could spark these moments for themselves and their community any night of the week (without needing a magical naked man, starry night sky, and
natural hot spring). The passion project of FLUSTER was born.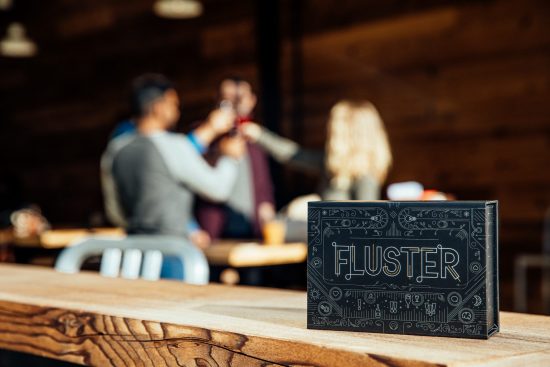 The Iteration
The challenge was then to create a set of questions. They started off with a stack of post-it notes, which soon became a rudimentary deck (to call it a prototype would be too generous) that they would leave out at parties to see if people took to it. People seemed to really love it, so they kept working on the questions and refining the game. Over the next few years, one deck became 10, and then 100. Friends and family kept wanting copies, so they knew the need existed for this type of fun way to connect on a deeper level.
By 2017, the next step was to run a Kickstarter campaign to finance the first production run at scale. It was a big success, thanks to tremendous support from Devon and Walker's Vancouver community. Since then,
FLUSTER has been available around the world.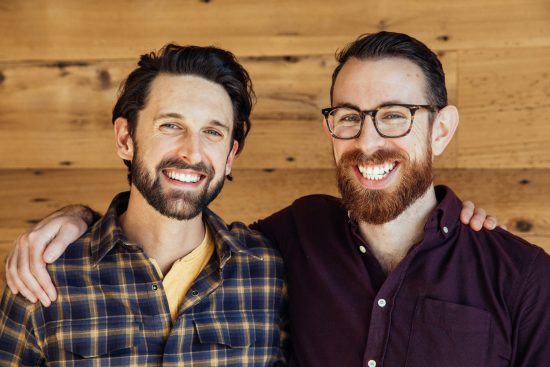 The Innovation
The process Devon and Walker use to craft FLUSTER questions involves digging around in unspoken thoughts, feelings that get pushed to the side, and the parts of life that rarely otherwise come up in conversation. From there, they try to find the right wording that balances direction—so it quickly evokes something from most players—and space—so players are inspired to give raw, thoughtful responses rather than yes-or-no answers.
Fluster Creations believes that many of the divisions between people disappear when they can have honest, vulnerable conversations with each other. When people play FLUSTER, they quickly remember how much they have in common, and their differences become the source of empathy, or even humour, when expressed in personal stories.
Devon and Walker pictured the target audience for FLUSTER as young adults who wanted social excitement that they weren't getting from going to bars or small talk at parties. What surprised them was that FLUSTER has resonated with people of all ages in situations they never even imagined. For example, a dad who used FLUSTER to connect with his teenage kids, an ESL teacher who used the cards in her classroom, and a woman who used the questions to elicit stories from her aging father.
The Future of FLUSTER
Fluster Creations has big plans for the future, including expanding its social mission. Once it's safe to gather in large groups, they will be focusing on facilitating events that use FLUSTER to create connections within communities. They have also created multiple digital question packs that will be sold to raise money for mental health charities. A new expansion pack is coming soon, with maybe even an app version of the game somewhere down the line.
Recent times have challenged people to find new ways to come together. As a connection-starved world begins to return to normal, Fluster Creations wants to help facilitate that rekindling of social life and bring
people back together like they never missed a beat.