For years now, real estate has been a brick and mortar industry. Volumes are measured by physical units and not digital presence. Industry veteran Bhavadeep (Bobby) Reddy is all set to change that definition with his AI-led, real estate platform HousingMan.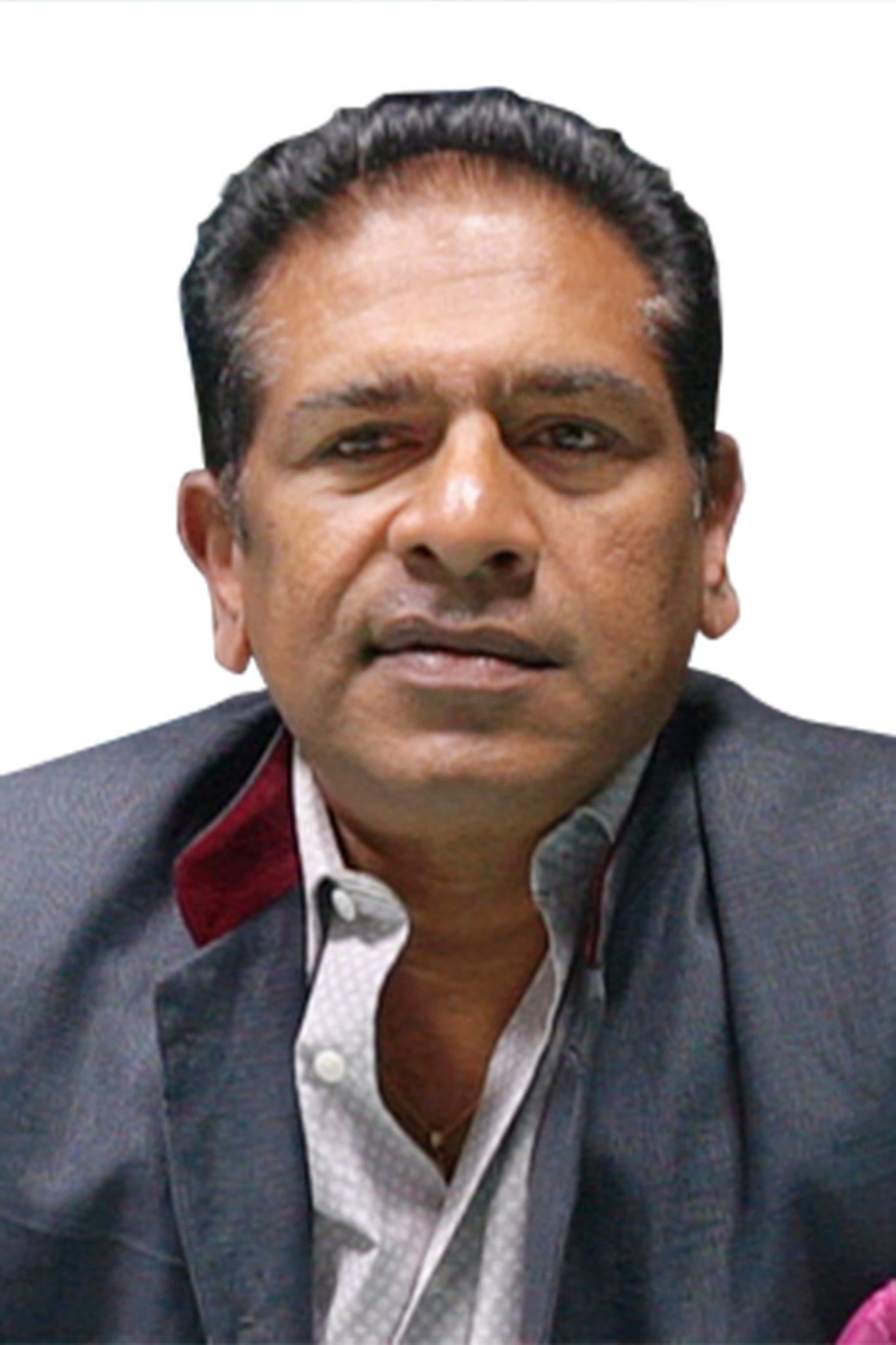 Bhavadeep (Bobby) Reddy, Founder, says, "The real estate industry is inundated with vast unsold inventory. We are the bridge between the builder and the buyer. Eventually, HousingMan will not be just a brokerage firm but will become a technology platform. We will be accessible to individuals, MSMEs and large companies."
As per a report by JLL India, as many as 4.4 lakh housing units were unsold in seven major cities at the end of 2017. In an offline model, challenges that builders face from discovery to sales are multifold. Currently, builders engage with property buyers largely through print ads, cold calls and a disjointed effort to convert sales from weak leads.
Through its proprietary software, HousingMan, started in 2015, curates local experts and enables data-driven sales in micro localities. This AI-led property discovery platform uses technology to disrupt the brokerage industry. The firm's co-founder, Reddy, says that based on research, Indians prefer to pay for products rather than services. Owing to this, an added layer of curation and data science empowers targeted sales. The company has a success rate of 4%, which is to say, it converts 4 sales out of every 100 enquiries, as opposed to an industry average of 1-1.5%.
The technology platform works by aggregating local experts in a micro locality and empowering them with data. Potential buyers register on the platform and share basic data regarding their property purchase choices. Through its AI feature, the platform gleans property choices for the customer and shares it with the expert. As per Reddy, "We are the matchmakers between brokers and buyers." This unique offering solves the lead generation model for builders and provides a buyer with personalised choices.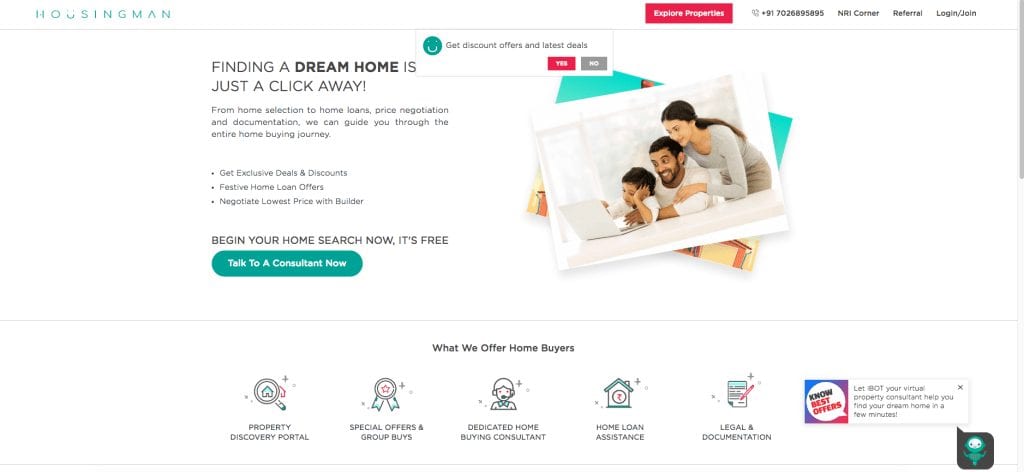 Interestingly, when HousingMan started in 2015, it started on a discount and deals model, pivoting in 2017. Reddy, a serial entrepreneur with 20 years' experience, with his co-founder, Rajendran R (product architect at HousingMan) realised that they could not scale with this model. The conclusion they arrived at was, technology helps scale faster. The analytics garnered through the firm's platform are able to draw buyer profiles and target product preferences with higher accuracy. This saves builders' marketing costs.
Currently, HousingMan has 120 brokers on its platform just in Bengaluru and aims to scale that number to 500 by the end of 2019. Among its many users, the firm has an exclusive partnership with global real estate firm JLL. In July 2018, it raised seed funding of $1.5 million from undisclosed sources. It is currently present in 7 cities across India, including Bengaluru, Chennai, Noida, Cochin, Hyderabad, Gurugram and Kolkata.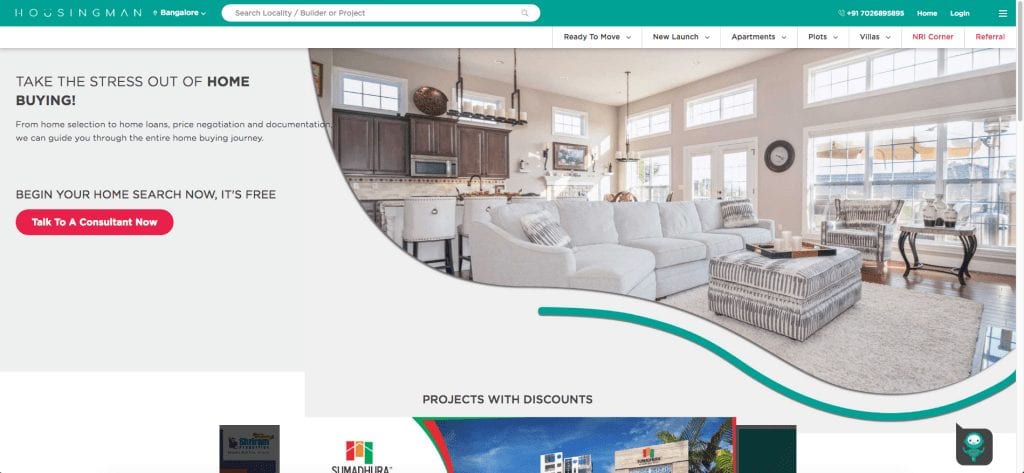 According to CREDAI, real estate is the second largest employer after agriculture and is slated to grow at 30 percent over the next decade. The Indian real estate market is expected to touch $180 billion by 2020. The housing sector alone contributes 5-6 percent to the country's GDP. It is no surprise then that HousingMan wants to foray in the secondary/resale market by the end of 2019. By 2020, it plans to expand to the rental market.
While the firm does not compete with the likes of Magicbricks and 99Acres.com, it draws a parallel to US-based real estate company, Compass. As Reddy shares, "Our technology is superior and the real estate industry in India is nuanced and riddled by fraud. We have robust fraud control and even transactions that take place offline are geotagged and recorded on the platform." The company has a lead enrichment engine (ICREM), which has helped it profile customers more effectively.
The firm has its own set of challenges, however. Reddy contends that brokers are very smart and have to be constantly engaged. While data is the new oil, the company has to be cognisant of the extent to which it collects buyer data to share with the broker. The firm is emphatic in its claim that it does not, in any way, take away from customer privacy.
What does the future hold for this AI-focused firm? With 100 transactions a month, growing at the rate of 10% per month, HousingMan is expected to roll out to 25 cities in 2019. With the platform working on a revenue share model, Reddy takes pride in the company's digital marketing skills. He says, "Traditional media spends are exhaustive. We have observed that when a large builder places a print ad, digital engagement increases and we cash in on that."