CEOs constantly hear noise about competitive "disruption" in their sectors, fueling concerns about their organization's ability to innovate in an increasingly competitive and agile global market. This creates natural pressure to grow and meet earnings targets—but growth can be slow and expensive. With Open-Innovation and Co-Creation platforms, it doesn't have to be.
In order to reboot innovation organizations must focus in on the top Reboot Zones—People, Platform and Passion. To excel in "Platform" Innovation, smart leaders are turning to co-creation approaches to growth. These platforms rely on partnerships, engagement with multinational entrepreneurial ecosystems and collaboration with organizations who have enabling products, services, business-models and people to bring efficiency and greater effectiveness to growth, innovation, ventures and other initiatives.
Dancing with Startups is a co-creation program that enables executive teams navigate and leverage the global entrepreneurial movement— tapping into Entrepreneurial-Innovation, DEI and Gig-Economy talent networks to co-create products, services and ventures. Through a combination of processes and engagements, the program both performs and enables teams with tools to improve their strategy and achieve actionable results that provide optionality and agility. Beyond cookie cutter outreach programs or slide-show innovation consulting, Dancing is rooted in focus and execution—doing the work and delivering together. Dancing program situationally target diverse organizations (not just startups) to define, research, evaluate, vet, meet, negotiate and engage with organizations on a variety of levels. These are not only for the introduction of new products, services, technologies and ventures, but also to accelerate specific growth areas, increase go-to-market speed, improve operational efficiencies and magnify the impact of innovation. Programs need to be flexible and customizable to an organization's needs—with agile engagements ranging from a few weeks for high level involvement in our platform to years for the achievement of more systemic transformation.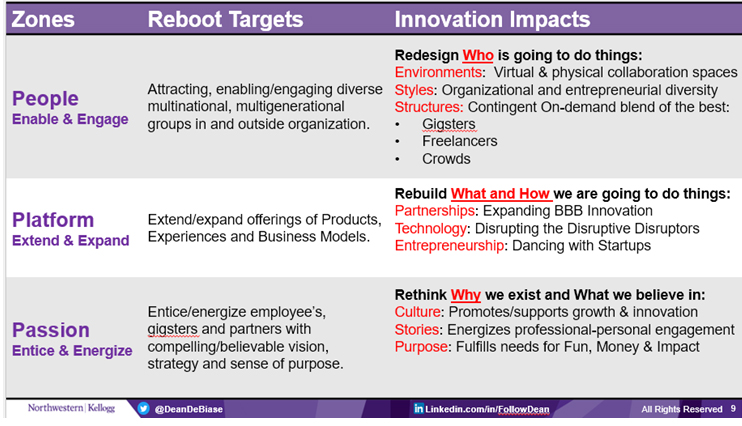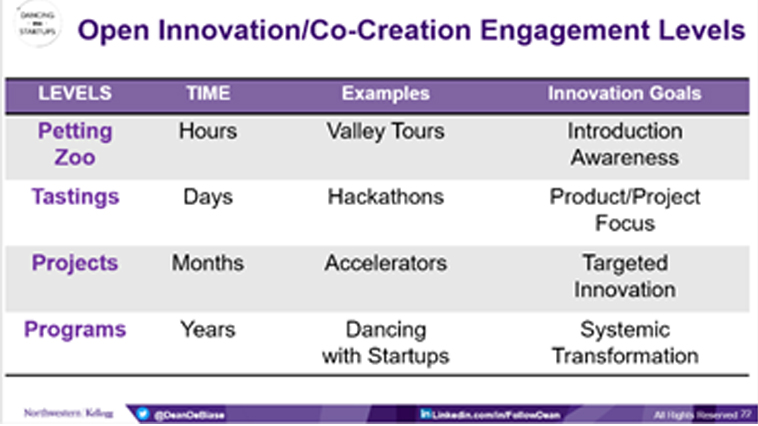 Co-creation engagement levels can address organizational impact opportunity areas. Some popular areas include:
Growth: Accelerating Open, Agile Innovation / Co-Creation Partnering / Investment Intelligence & Optionality
Culture: Expanding Employee Engagement / Leadership Agility / Business and Operating Models
Community: Improving DEI & ESG / Renewing Employee Purpose & Passion / Civic Appreciation / PR & IR Credibility
Growth: From sourcing, manufacturing and product development to channels, retail, ecommerce, social, digital and DTC, this decade has emphatically underlined the notion of "Uber yourself before you get Kodaked!"
These trendy words are easy to say but difficult to live up to unless you learn how to "Disrupt the Disruptive Disruptors"—or Dance with them.
With an emphasis on building new products, services and ventures, we work with large corporations to actively identify, vet, and develop opportunities through the curation of hybrid partnerships with startups, incubators, accelerators, and emerging large companies. We also work with innovation labs and educational and governmental groups to achieve outcomes ranging from new supplier relationships that expand capabilities, improving efficiencies and reducing costs to the co-deployment of strategic offerings into new channels, investment structures and acquisitions.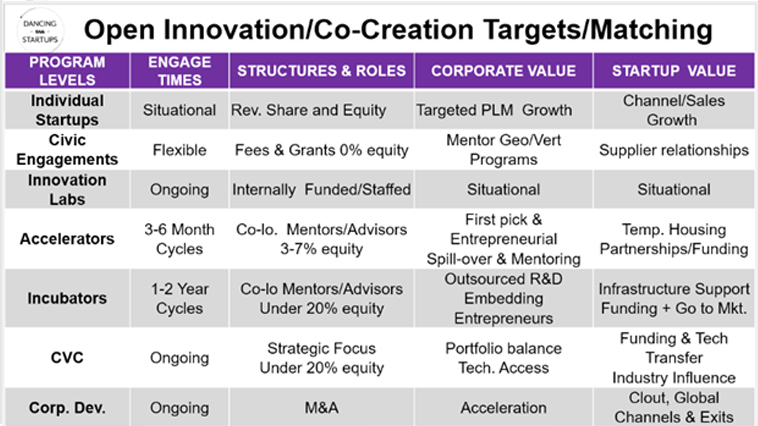 Culture: Beyond deploying open-innovation techniques and seizing emerging co-creation opportunities, companies have also been rebooting their culture, improving engagement and renewing morale by inviting and involving employees across functions and geographies in Dancing with Startups processes, meetings, events, and operating environments.
The grid above shows how companies can think about and execute on infusing organizations with the speed and attitude of successful startups. This, when blended with the sense of urgency and focus of disciplined turnarounds, allows leaders to create more entrepreneurial thinking operating environments.
Companies are creating more diverse and inclusive growth and innovation cultures in and around select departments by engaging startups, hiring entrepreneurs, setting up accelerators and innovation labs, conducting targeted hackathons and investing in or acquiring emerging growth companies. Executive teams and corporate boards also participate in our Incubator Immersion in Silicon Valley and other global regional expeditions to jumpstart their outreach, understanding and engagement of global entrepreneurial ecosystems to create value. Many organizations are also leveraging Dancing with Startups platforms to improve their DEI engagement and performance—by integrating their diversity and inclusion programs into their market growth agendas.
Community: Corporations benefit from deploying the program with a civic outreach and community/PR acknowledgment component in their key geographic areas. Though most demo days consist of confidential/private virtual and in-person meetings, select corporations also use Dancing with Startups to demonstrate their commitment to supporting emerging communities through contributions of both human and intellectual capital. These contributions take the form of outreach programs, partnering with or investing in local entrepreneurial ecosystems, and supporting gig-economy initiatives, to name a few.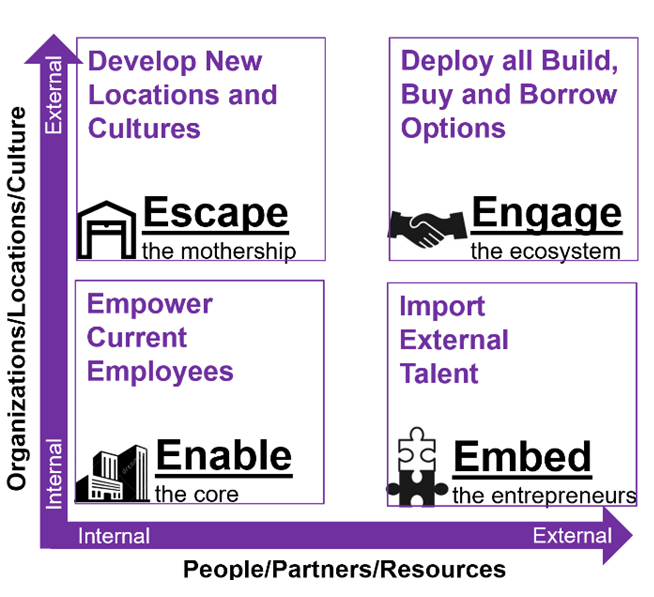 Named a "Growth Guru" by Inc. Magazine and a Silicon Valley Serial CEO, Dean DeBiase has served in chief executive and chairman roles of more than a dozen emerging growth companies, accelerating them through market-making hyper-growth phases including global expansion, digital disruption, scaleup, turnaround, roll-up, spin-out, divestiture, acquisition and IPO—with dozens of successful exits. He has also been the CEO of Fortune 500 subsidiaries, and a director on public, private, family-enterprise, CVC, PE and VC boards.
A popular keynote speaker, podcaster, best-selling author, media guest, contributor to Forbes and Fortune—and Executive Producer of a variety of media programming including The Reboot Chronicles Podcast and The Reboot Institute's Executive Education Programs, including the Reboot Fellows, Dancing with Startups, and Boardroom Innovation.
Dean is Chairman of Reboot Partners, where he and his team focus on scaling emerging growth companies, and helping startups and Fortune 1000's to drive global growth together. He is also a leading advisor on how organizations can tackle their most challenging issues, seize emerging market opportunities, develop new channels and business models—and tap into entrepreneurial and DEI ecosystems to co-create new growth initiatives, partnerships, M&A and ESG opportunities.
Dean is a Faculty Member at Kellogg School of Management, a Technology Fellow at Northwestern University, a Board Leadership Fellow at The National Association of Corporate Directors, and an Advisor to the NSF – National Science Foundation.