In the heart of America's Midwest, three identical tee-shirts sit folded neatly on a shelf at a Target store. In a few hours, one will be placed in a guest's shopping cart. Another will head to a backroom packaging and shipping station. And a third will be carried to the front of the store for a guest who bought it online and will stop at the store to pick it up. 13,000 miles away in Bengaluru, a team works on the data and analytics that can help predict and plan the store's inventory well in advance, so that Target can fulfil orders through multiple shopping options.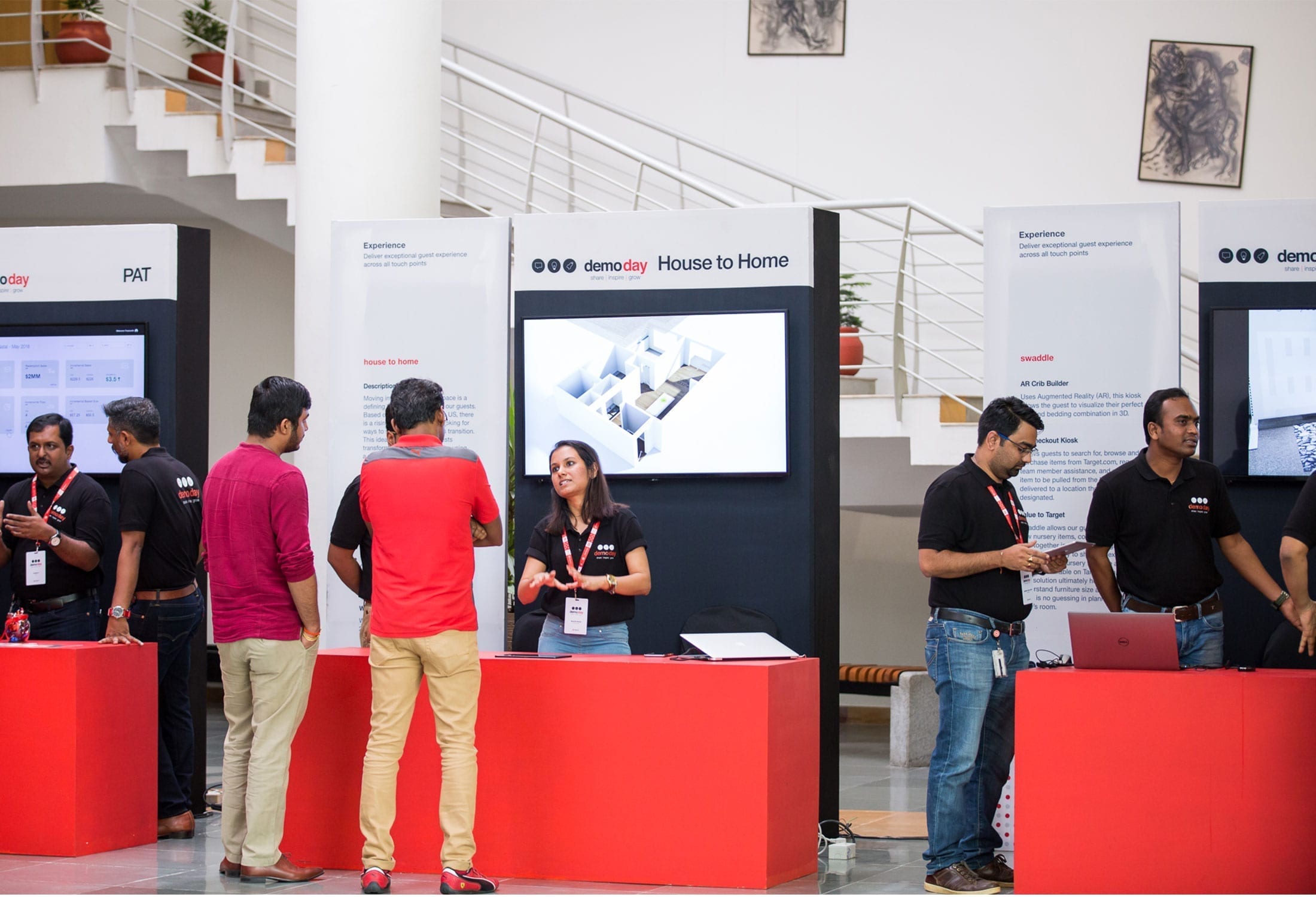 Pitching a product: At Demo Day, there's no limit to the scale or creativity of ideas and thought. Here, a Team Member demos their innovation and how it has helped create new business opportunities for Target.
Innovating for a business so far removed from the Indian retail landscape is a daunting task. For the 3,000 and more cross-functional team members at Target in India working to bring joy to Target's guests, the task is easier because of the strong culture of continuous learning. Strategically planned learning initiatives are fundamental to innovation at Target in India. They bring people across businesses together, provide insights about stores, products and guests, encourage people to embrace new perspectives and create opportunities for growth.
The organization focuses on a 70-20-10 learning philosophy. Mathematical as it sounds, the approach to learning is in fact quite deliberate and structured.
The organisation focuses on a 70-20-10 learning philosophy. Mathematical as it sounds, the approach to learning is in fact quite deliberate and structured. It focuses on nurturing a team member's professional and personal skills to maximize the potential of both, the individual and the organization. 70 percent of the learning is on-the-job; 20 percent is from the key relationships one builds with mentors, leaders and peers; and 10 percent is a carefully planned series of formal learning programs and modules. Here's a closer look at some of the leading India HQ initiatives across all three segments.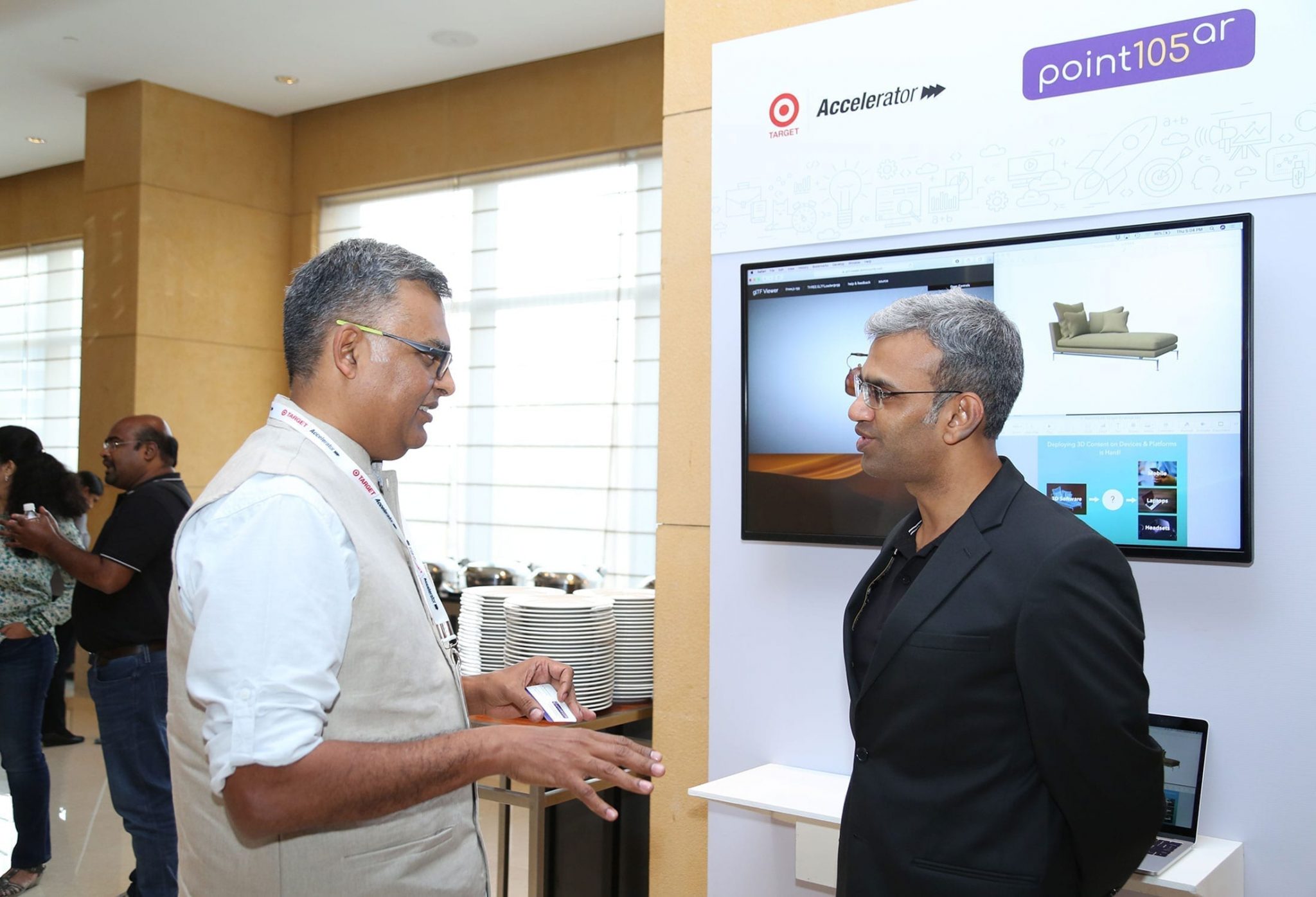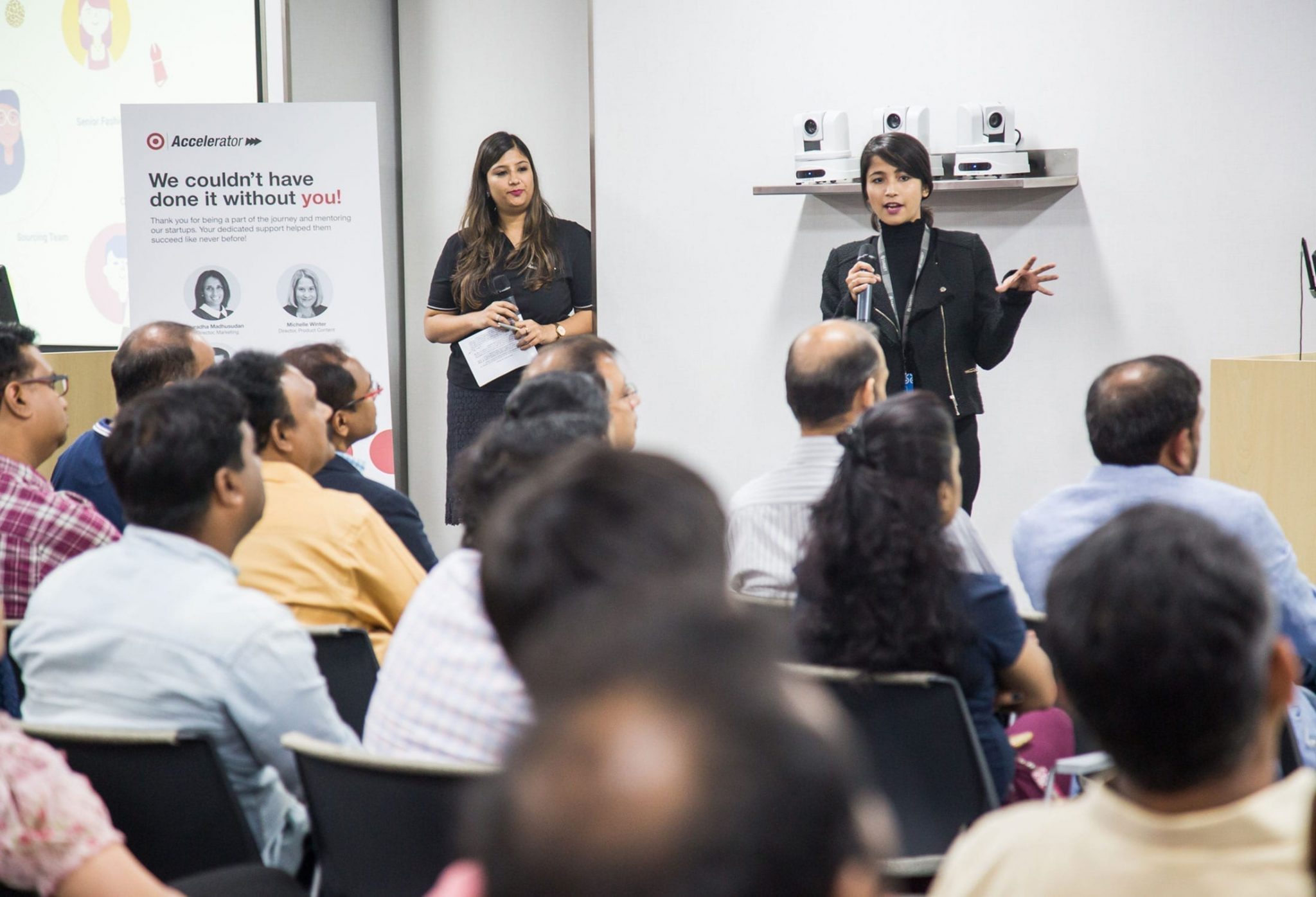 Demo Day: Where there's an idea, there's a way
As an extension of the company's Minneapolis headquarters, Target in India shares many similarities with its HQ, including learning initiatives like Demo Day. The event started as a science fair style gathering for Target's product teams (often cross-functional) to showcase their work to business leaders in India and those travelling from HQ. Today, the India chapter of Demo Day demonstrates the purpose and key result areas of products from previous quarters.
Curiosity is key; team members are encouraged to upskill on-the-job, apply their knowledge to solve real-time business problems and build a minimum viable product (MVP) of the product or solution. Demo Day is where different MVPs are demonstrated to peers and, more importantly, to leaders. Late last year, the teams had an opportunity to meet with Brian Cornell, Chairman and Chief Executive Officer, and Mike McNamara, Executive Vice President and Chief Information Officer at Target Corp. The team walked the leaders through their ideas. They received instant feedback on their product roadmap and found the right leads to take their ideas to the next level.
This matters for several reasons. First off, the interaction – often one-on-one – with the highest level of the leadership team proves invaluable. Second, over 268 participating booths and 150 ideas later, Demo Day is now open to non-product teams to demonstrate the power of their ideas too, creating more opportunities for cross-functional experts to come together to enhance the guest experience. And of course, it's a day meant for team members to share their passion for the work they do.
Team Member Incubator: Intrapreneurs FTW
Target in India believes an intrapreneur is much more than just the dictionary definition of an employee with attributes of an entrepreneur. Here, an intrapreneur is any team member who is fearless and persistent about finding new ways to make a difference through their work.
The Target Team Member Incubat
or taps into the vast potential of its intrapreneurs to build in-house capabilities and drive the business forward. It's rooted in the Target Accelerator Program, an initiative that works closely with India's startup ecosystem to find and nourish unique startups that can impact retail. Mentorship plays a key role in the entire process, giving participating team members plenty of room for one-on-one leader interactions. This is the first year of the program and of more than 50 submissions so far, only six will start their eight-week journey of building an MVP that will be presented to the leadership team.
Intrapreneurship creates a culture rich in problem solving and creative thinking. It leverages the talent pool available in-house to meet strategic goals, while providing team members with an opportunity to fulfill their potential – and be an entrepreneur within the security of their workplace.
Ignite: Go get 'em, girl!
Diversity & Inclusion has always been a priority for Target and the company offers focused, formal learning programs for women team members. Ignite is a home-grown initiative at Target in India, designed to empower women with the skills to take on leadership roles. The nine-month program builds on four key themes: personal branding, mindset change, building effective networks and learning to negotiate.
Based on the women team members' career aspirations and developmental needs, each of them is also aligned to a senior leader at Target, who plays the role of their mentor. Apart from this, the participants continue their learning journey through smaller wisdom circles that come together once a month to share their learnings as well as stories.
Since its inception two years ago, 89 women team members have spent over 3,200 hours each on transforming themselves into remarkable professionals. Around 21 percent of them have been promoted or found their calling in new business teams, and 67 percent are handling larger projects and teams or leading enterprise initiatives. Ignite has led to a 92 percent increase in the retention of the participating women team members.
Poonam Chadha, who develops materials that support merchandise placement decisions back in Minneapolis, embodies confidence and optimism as she talks about her Ignite experience. "I think we set our own internal glass ceilings before we venture out to challenge actual existing ones externally," she says, adding that the program's been all about "helping us become more confident and comfortable with ourselves as individuals, and learning not to undermine ourselves or our values before we can approach someone else and show them what we're worth."
Learning at Target comes down to the joy of discovering new capabilities in oneself; the joy of breaking new ground and the joy of coming together to enhance the everyday lives of everyone its team members connect with, through what they do.