People are often surprised when they find out "Music City" is not just mega-music companies. In fact, the business ecosystem is very diversified in national and global business, and the greater Nashville area has many home-grown companies as well. The city is fertile soil for startup companies; many of our prime locations are designated as Opportunity Zones, making it advantageous for investment.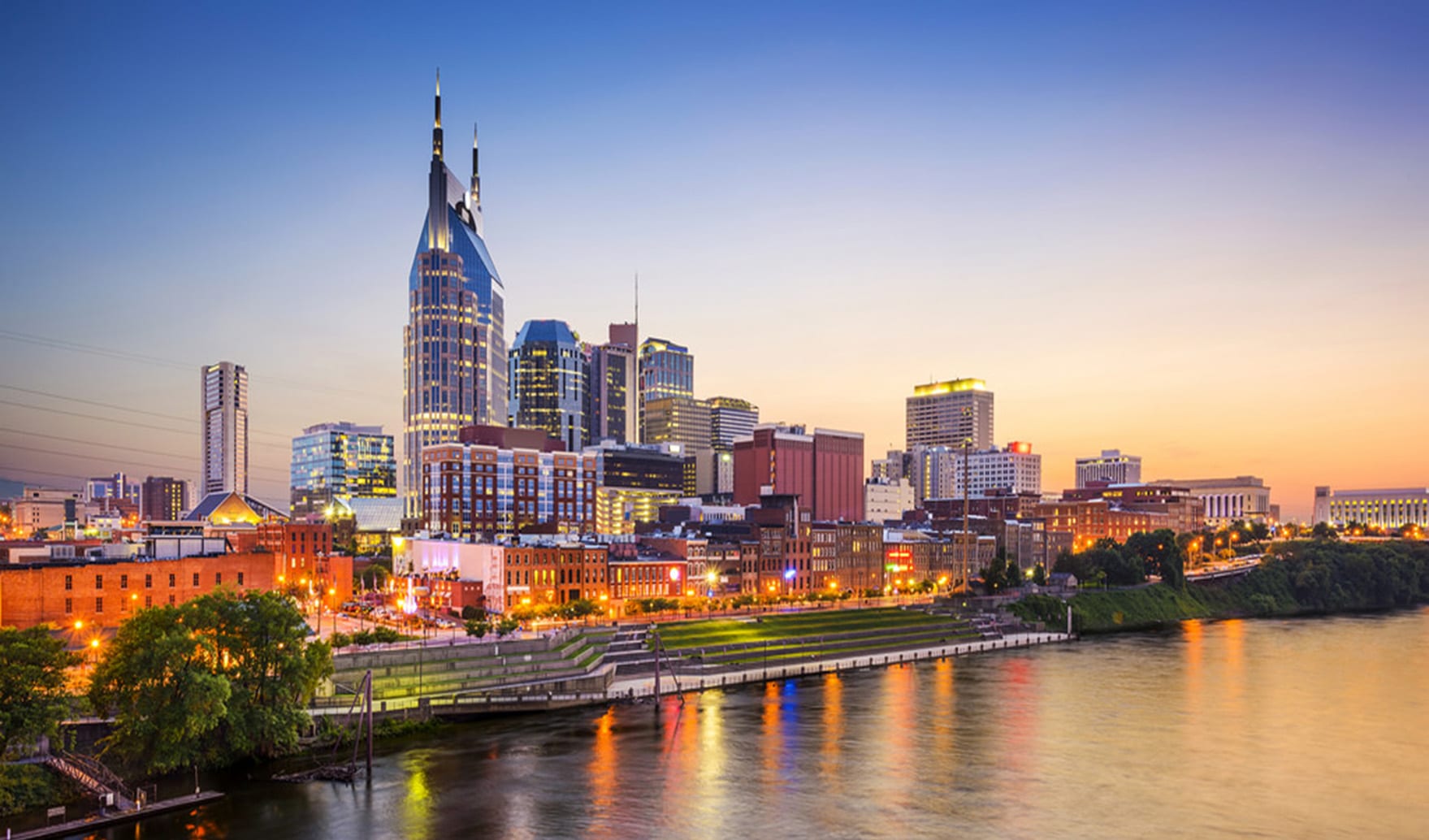 Plus, Nashville is just plain fun to live in. In addition to housing the Country Music Hall of Fame and the Grand Ole Opry, Nashville has lots of blues, pop, and a vibrant classical music scene. We've been called the "Athens of the South," given the amount of world-class art and performances (both mainstream and independent) that occur on a daily basis. The city is also home to year-round major and minor league sports teams—Tennessee Titans football, Nashville Predators hockey, Nashville Sounds baseball, and Nashville SC soccer.
And given the continued growth in the excitement of our downtown area—what some call "NashVegas"— it was no surprise to hear that Travel + Leisure recently announce that Nashville is now the No. 2 destination for bachelorette parties. For men's evenings out, Nashville is also home to a Robb Report rated "Top 5" cigar bar (The Standard at the Smith House) and one of the most famous men's rooms in America (The Hermitage Hotel).
The city is also family-friendly with over 100 parks, including the trailhead of the Natchez Trace Parkway, many historic and Civil War sites, fireworks displays that top the national ranking, an excellent selection of schools and universities, and all four seasons. Tennessee also remains one of the few states that have adamantly maintained no personal state income tax. It's no wonder that recent statistics show that about 100 people relocate to Nashville each day.
Why did you want to be an Angel investor and how did you get started in Nashville?
I did not start out with the intent of being an Angel. In my "day job" of integrating innovators and the medical profession, I have seen so many good technologies, diagnostics, and therapeutics fail based solely on the inadequacies of the business plan, team, or strategic thinking. The passion to make a difference baited me into this world, but the hook to be an actual investor was set by all the shiny, cool things, the excitement of startups, the great people involved, and, of course, all the other boring cliché reasons of portfolio diversification.
But don't you have a job working 60+ hours a week already? Where do you find the time?
Yes, it's hard being Superman with such a busy Clark Kent job but I enjoy both very much. Regardless of how busy our professional lives are, we all have to have hobbies and pastimes. In my "free time" I prefer reading, solving puzzles, playing academically-oriented games, having intriguing conversations, and most of all, learning new things. I look herein to diversify my brain as well as my portfolio, but as part of a large national angel network, I know I don't have to be the expert in everything.
How does your involvement impact your family life?
Actually, my family is part of it. Being married means that this is my wife's money, too. Debbi and I are in a good balance as far as making sure we maintain a strong portfolio. And I have to say my angel life has introduced many learning opportunities for my two children. Answering the dinner table question of "What did you do today, Dad?" has certainly been more diverse than it used to be. Discussing and learning things about the movie/music industry, cool gadgets, new technologies and things like that are certainly more interesting to them than the strategic operations and regulatory affairs of the clinical research industry.
What is it that you like about the angel network model as opposed to doing this on your own?
I am extremely busy with a day job, family life and community service, so being part of an angel network takes the burden of the rote tasks away from me so I can concentrate on my life and my decisions. They provide a great service in obtaining deal flow and prescreening so that I only have to concentrate on the deals with the highest potential. And then, if I do the deal, I have all the information and reporting managed for me. They have made this process easy and enjoyable. Plus, investors in our chapter are quite a diversified group and each meeting we seem to walk away smarter than when we entered.
What have you learned since you started?
First and foremost, I was generally unaware that the angel investor world was made up of people like me. I knew what it meant to be an "accredited investor" but my incorrect image was that angels were all retired or ultra-wealthy individuals putting in a million dollars every here and there. I could not have been more wrong.
Secondly, I never fully appreciated how much I am not investing in an actual company through buying stock until I got into angel investing. With Angel investing, the companies are led by people you actually meet, they get the actual cash you invest and you can actually see (and even condition) how the money is put to use.
Don't get me wrong; there is still a place for publicly traded stocks in a diversified portfolio, but returns on angel investing are much more logical. With the companies I have investments in as an Angel, I do better as they do better and there is far less noise in that correlation. Given the number of variables outside of my control that affect the value of publicly traded securities, it seems that public stocks are the real "gambling money" whereas, with angel investing, you actually get to contribute to the company.