Meet the Thought Leaders and companies that are building the pharmaceutical development innovations of tomorrow – Inspiration, Growth, and Opportunity await.
What is the publication?
Innovations in Pharmaceutical Development is a directory resource that highlights approximately 20 thought leaders and approximately 60 to 80 companies at the forefront of innovation in pharmaceutical development. Profiled companies and thought leaders are selected from nominations by a panel of six independent industry experts and three panelists from Crosstree. Panelist profiles are provided herein.
Why Crosstree?
Crosstree's strategic research and consulting division is publishing three Pharma Services Innovations directories for (i) Development, (ii) Commercial, and (iii) Supply Chain segments. Crosstree is publishing the directories to advance its thought leadership content, beginning with the Development segment. It is important to Crosstree that the directories are perceived as professional, high-quality industry resources, and not promotional advertorials.
What is the commercial model?
There is no cost or obligation for nominated companies to participate. The book will be sold as a directory to biopharmaceutical companies, investors, analysts, and other industry participants. Crosstree has partnered with Global Village, a directory publisher, to publish the directories. Global Village will offer nominated companies optional promotional products, which are further described in the back of this overview.
Crosstree's Innovations in Pharmaceutical Development is being developed and fully funded by Crosstree and Global Village. There is no cost or other obligation involved to participate.
---
Nominations are now open and this is your chance to help showcase the Innovators that you know, to the world! Nominate a deserving company to be featured in INNOVATIONS in Pharmaceutical Development using the button below.
Industry Taxonomy
An integral part of the project is the visual representation of your companies services and capabilities. You can either mark your capabilities within Pharmaceutical Development utilizing a proprietary industry classification infographic on the printable copy of the Industry Genome or alternatively use the form on this link to select your capabilities.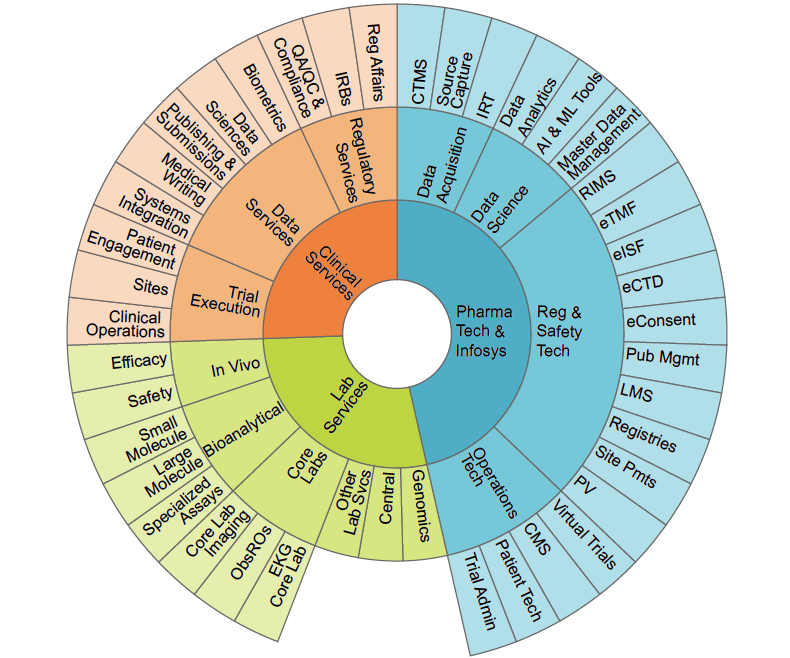 Industry Taxonomy Glossary of Terms
Clinical Services – Clinical services are the medical, diagnostic, and therapeutic services provided directly to the patients that are currently enduring health conditions.
Trial Execution – Trial execution is the initiation of conducting experiments or observations on human participants for biomedical or behavioral research studies. These studies are specifically designed to discover the outcomes of new studies or interventions.
Data Services – Clinical data services allow for standardized and centralized end-to-end data collection, analyzation and publication to ensure a seamless, efficient trial process and drug approval. • Regulatory Services – Regulatory services are conducted in an organization or clinical trials in order to provide guidance for the company and make sure that they are following the legal guidelines and policies in regard to its daily business processes.
Regulatory Services – Regulatory services are conducted in an organization or clinical trials in order to provide guidance for the company and make sure that they are following the legal guidelines and policies in regard to its daily business processes.
Laboratory Services
A facility for the biological, microbiological, serologic, chemical, hematology, immunohematologic, biophysical, cytologic, pathologic, or other examination of materials derived from the human body for the purpose of providing information for diagnosing, preventing, or treating disease or impairment of, or assessment of humans.
Genomic Testing – The process of observing an entire genome (all the genes that make up an organism). Genomic testing evaluates all a person's genes, rather than focusing on a specific gene, or set of genes. Genomic testing looks broadly for gene alterations, or harmful changes, anywhere in the genetic code.
Central Laboratories – A place, establishment or institutional laboratory that is responsible for conducting and consolidating laboratory testing, reporting and data originating in different clinical sites in order to standardize analytical platforms, kits, techniques and reference values allowing for the creation of harmonized processes and more consistent assessments.
Core Laboratories – A core lab typically serves researchers working in R&D laboratories. Core labs frequently are subject matter experts when it comes to certain equipment and/or techniques and is used by independent research labs to conduct highly specialized/technical assessments.
Bioanalytical Laboratory Testing – A place, establishment or institution organized and operated primarily for performing chemical, microscopic, serologic, parasitologic, bacteriologic or other tests, by the practical application of one or more of the fundamental sciences to material originating from the human body, for the purpose of obtaining scientific data which may be used as an aid to ascertain the organism's state of health.
In Vivo Laboratory Testing – Medical tests and/or experiments or procedures that are done on (or in) a living organism, such as a laboratory animal or human. In vivo studies are conducted to look at the actual effect on how the living organism (body) will respond.
Pharma Tech & Infosys – Software, technology, eclinical solutions, and data subscription services related to the development of drugs.
Data Acquisition – Data Acquisition and Repositories tools refer to technology that is utilized to capture, store, and analyze data used in clinical trials.
Regulatory and Safety Tech – Technology systems and solutions used to manage regulatory affairs, pharmacovigilance and safety requirements in clinical trials. • Operations Tech – Technology and related solutions used in the execution of clinical trial operations.
Data Science Tools – Tools used for the analysis, management, and presentation of data relating to clinical trials.